Weber High School

In Memory
Marilyn Beth Grover (Moore)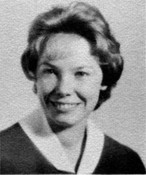 ---
Marilyn Beth Grover Moore
January 28, 1944 ~ August 21, 2010

---
MALAD, Idaho -
Marilyn Beth Grover Moore, 65, loving wife, mother, grandmother and great-grandmother, passed away on August 21, 2010, at her home. Marilyn was born January 28, 1944, in Ogden, a daughter of Grant and Elizabeth Tingey Grover.
On August 26, 1961, she married the love of her life, Gary Moore, in Roy, Utah. Marilyn graduated from Weber High School in 1962, where her "Senior Accomplishments" list "100% Attendance" and that she graduated from the LDS Seminary program. The Moores later moved to Oregon, where they had an only child, Jeffery Ray Moore. They then moved to West Haven, Utah, where Marilyn and Gary were involved in horse racing and cutter racing.
Marilyn was the secretary and lifetime member of the Wasatch Slopes Association. She also enjoyed being an employee at Lucas Lumber. In 1999, she and Gary retired and moved to St. John, just outside of Malad.
She was a member of the Church of Jesus Christ of Latter-day Saints. She loved animals, being outdoors, camping, fishing and spending time with family and friends. She especially loved spending time with her grandson, Jeff Jr.
Marilyn was survived by her husband, Gary, of St. John; her son and his wife, Jeff and Leann Moore of Twin Falls, Idaho; her grandson, Jeff Jr., also of Twin Falls; a granddaughter, Stephaine, grandson and wife, Tyson and Kaylee; great-grandchildren, Payton and Iziah; one brother, David Grover of Roy, Utah. She was preceded in death by her parents and sisters, June and (her twin sister) Carolyn.
Funeral services were held on Wednesday, August 25, 2010, at 11 a.m. in the Horsley Funeral Home, 132 W. 300 N., in Malad. Friends were invited to visit with the family on Wednesday prior to the service from 9:30 to 10:45 a.m. Burial followed in the Malad City Cemetery. Condolences to the Moore family were asked to be posted on www.horsleyfuneralhome.com.
---
Here is Marilyn's Entry from the 1982 Reunion Book:
"After High School, Marilyn worked for 10 years as a bookkeeper. She married Gary Moore and retired when they moved to Lagrande, OR in 1973. In 1974 their son Jeffrey who is now 7 arrived and their rest ended. The lived in Oregon for four years and loved it. Snowmobling was their new sport there and riding was endless. A typical day's ride was 90-100 miles.
They must like to move because they are in their 6th house. They hav enjoyed many sports such as waterskiing, bowling, drag racing, horses, motorcycles, snowmobiling and always camping, hunting and fishing.
Currently they live in Kanesville and are into raising and racing horses. Marilyn bowls and like to cook, sew, crochet and knit."
---
We have no "later in life" photos of Marilyn. However, we can share these pictures from earlier yearbooks. Any other pictures or comments would be much appreciated.
Golden Spike '61: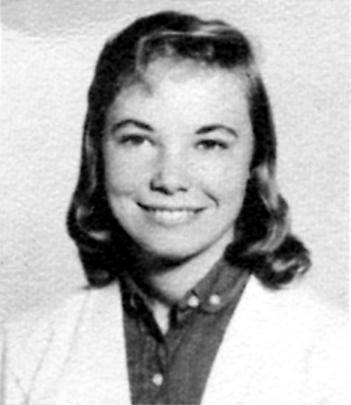 Marilyn and her Twin Sister Carolyn's Roy Jr. High 9th Grade Yearbook pictures:

---
Footnote: Re Marilyn Beth Grover's twin, Carolyn Beth Grover
Carolyn did not graduate from Weber and we only know that she was in the sophomore yearbook, but have no information about her adolesence after that. The family may have moved out of the school district while Marilyn and her husband remained in it - but if anyone knows more, please inform the site. In any case, for those who knew both, we have found a brief obituary on Carolyn and share it here:
---
CAROLYN BETH GROVER BURY
Las Vegas Sun Monday April 27th, 1998
Carolyn Beth Grover Bury, 54, of Pahrump died Thursday in a local hospital. She was born Jan. 28, 1944, in Brigham City, Utah along with her twin Marilyn Beth Grover. A six-month (snow bird) resident of the southern Nevada area, she was a homemaker.
She was survived by her husband, Jeffery of Paso Robles, Calif.; two daughters, Deborah Patterson of Paso Robles and Donna Locricchio of Pahrump; her mother and stepfather, Beth and John Terry of Roy, Utah; one brother, David Grover of Tucson, Ariz.; two sisters, her twin, Marilyn Beth Grover Moore of Ogden, Utah, and "June" Maria Dalton of Arizona; and three grandchildren.
American Burial and Cremation Services, 310 Foremaster Lane, handled the private arrangements.
---
Marilyn's obituary was found at http://archiver.rootsweb.ancestry.com/th/read/IDONEIDA/2010-08/1282675552 and was originally published in the Idaho State Journal, 08/24/10. The Committee is grateful to Classmates Earl Henstra, James Keller, Jane Chugg Renstrom and Linda Fowers Thurgood for the discovery, furnishing and posting of these materials.
---