Weber High School

In Memory
Jenny Della Thatcher (Dykeman)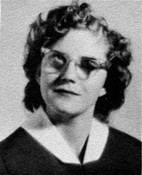 ---
Jenny Della Thatcher Dykeman
April 20, 1944 ~ November 11, 2011

---
ROY, Utah -
0ur loving wife, mother, grandmother, sister and friend, Jennie Della Thatcher Dykeman, 67, passed away Friday, November 11, 2011 at her home.
She was born April 20, 1944 in Oklahoma City, OK to Blaine A. and Della Bettes Thatcher. She graduated from Weber High in 1962.
On June 14, 1965, Jennie married Phillip Dykeman in Ogden, Utah. They have lived in Calfornia, Turkey and Roy the past 11 years. The 1972 Reunion book notes that they also spent time in New York.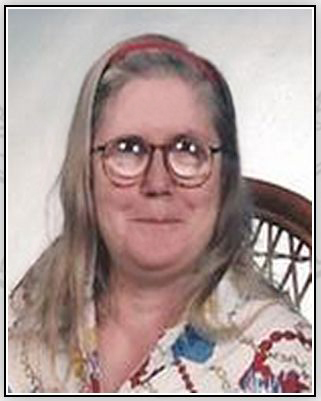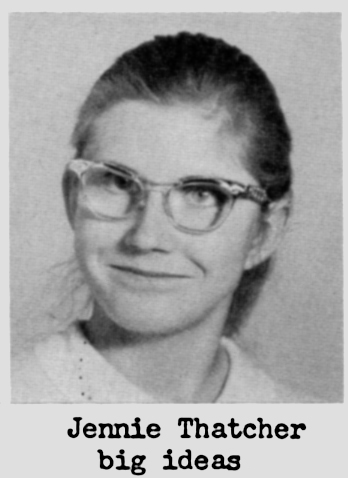 Left: Jennie's obituary photo from website scan. Right: Jennie in 9th Grade at Roy Jr. High.
She was a member of the Church of Christ in Clearfield. She enjoyed spending time with her family and her computer.
Jennie was survived by her husband Phill; two sons, Daniel, Roy and Phillip, CA; and a daughter, Delores Midvale; nine grandchildren, three great-grandchildren; two brothers, Greg Thatcher, Chandler, AZ; Douglas Thatcher, Waikola, HI; and two sisters, Patty McComsey, West Point, UT; and Vicki Fahncke, El Frieda, AZ
She is now rejoicing in heaven with her parents and two sons, Paul J. and Victor J.
Graveside services were held Tuesday, November 15th at 11 a.m. at Lindquist's Memorial Gardens of the Wasatch, 1718, Combe Road.
Funeral arrangements were entrusted to Lindquist's Roy Mortuary.
---
The Committee expresses its thanks to Classmates Linda Fowers Thurgood and James Keller for their help in processing and posting this information. The Obituary and picture came from Lindquist's Mortuary and was found at http://obitsutah.com/obituary/10176/jennie-della-thatcher-dykeman.htm.
---