Weber High School

In Memory
Wanda May Tanner (Bauman)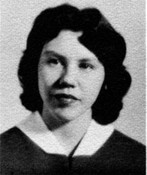 ---
Wanda May Tanner Bauman
January 13, 1944 ~ March 31, 2005

---
EVERETT, Washington
Wanda May Bauman, 61, of Everett, Snohomish County, Washington was born January 15, 1944, in Auburn, Washington and passed away from cancer March 31, 2005, in Providence Hospital in Everett.
The class In Memory Project has no other details of her childhood as this is posted, but she did live in Weber County, Utah for at least part of her adolescence, applied for her Social Security number here and graduated from Weber High School in 1962.
She is pictured in the 1961-62 Golden Spike yearbook, and her listing under "Senior Accomplishments" notes "Art Exhibit." However, she does not appear in any of the other class high school or junior high yearbooks in our archives. The Project's working assumption, then, is that she was not in Utah for much of her youth before becoming a graduating member of our class.
Also, other than an earlier married name in the Class Reunion books, the mention of her children in the obituary and the obituary's report of her career, we have no other concrete information about her life between 1962 and 1995 when she re-married.
---
The submission of any additional family information, Classmate Memory comments or photos would be much appreciated.
---
The 1972 and 1982 Class Reunion Books list her as Wanda Tanner Dunn, living in Everett, Washington.
Wanda married LeRoy Bauman in July of 1995. She also retired from G.T.E (Verizon) after 29 years of service.
She is described in the obituary as a vivacious and loving person who never met a person she didn't like.
Wanda was survived by her father, Wallace G. Olson of Lynnwood, Wasington; and three children from a previous marriage: one son, Travis Dunn of Everett; two daughters, LeAnn Gray of Lake Stevens, Washington, and Janette King of Everett. Wanda was preceded in death by her mother, Crystle H. Olson; and husband, LeRoy Bauman.
Her funeral service was held at 11:00 a.m., Saturday, April 9, at the Solie Funeral Home Chapel with a reception to follow in the Fireside Room. A committal service followed the reception at Cypress Lawn Memorial Park in Everett. A time of visitation was held from 9 a.m. to 8 p.m., Friday, April 8, 2005.

Wanda's original obituary (adapted here) was published in "The Herald" (of Everett Washington) April 3-April 6, 2005
---
The Committee thanks Classmates Linda Fowers Thurgood, Earl Henstra and James Keller for their assistance in gathering and posting this information. Page posted 7/24/2012.
---