Weber High School

In Memory
Rosalie Reeder (Karras)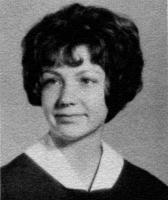 Rosalie passed away peacefully January 1, 2020 after a short battle with Frontotemporal Dementia (FTD). She was born July 29, 1944 in Logan, Utah to Nathan and June Reeder.
She attended schools in Millville, Roy and Ogden, Utah. She lived in Roy for over 60 years. She graduated in 1962 from Weber High School.
She also attended Weber State College. She married Leland O. Karras in the Logan, Utah Temple on March 25, 1966.
They were blessed with two daughters, Monica and Jessica. Rosalie worked for 33 years as the Catering Manager - Secretary for the Officer's Club at Hill AFB.
Her attention to detail for the parties she arranged for the club members were always flawless.
She was an active member of The Church of Jesus Christ of Latter-day Saints. She loved all her church callings, but especially working with the Primary children and planning Ward parties.
She was an avid gardener and had the most beautiful flower beds in Roy. She was a caring mother and grandmother to all her grandchildren. She will be deeply missed.
She is survived by her husband of 53 years, Leland and her daughters Monica (Wayne) Tafoya and Jessica (Dustin) Spendlove. Her beloved grandchildren Miranda, Colby, James, Tyler, Gracelynn, Kanyon, Kynslee, Easton and her two great-grandchildren Jexxen and Jayde.
She is also survived by three sisters and one brother; Dixie Smith, Twilla (Warren) Stoddard, Ramona Conger, Richard Reeder and many other brother and sister-in-laws and nieces and nephews. She was preceded in death by her parents and her brother, Robert Reeder.
https://www.echovita.com/us/obituaries/ut/roy/rosalie-reeder-karras-10213055