Weber High School

In Memory
Dave Racker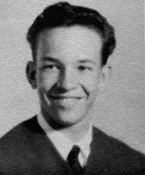 ---
David Carl Racker
August 2, 1944 ~ May 3, 2011

---
BOUNTIFUL, Utah -
David Carl Racker passed away on May 3, 2011 after a courageous battle with a pulmonary illness having valiantly completed his mission on this earth. David was a unique and amazing individual who will be missed by many.
David was born on August 2, 1944 to Carl Racker and Ramona McKean Racker in Salt Lake City, Utah. He attended Weber County High School. He served an LDS mission from 1963-65 in Denmark. He then attended Weber State University and graduated from Utah State University in 1970 with a degree in landscape architecture.
He married Alecia Ann Walker May 12, 1972 in the Idaho Falls Temple. They are the parents of five beautiful children. He is survived by the love of his life, Alecia; and children, Matthew (Lesa) of South Jordan, R. Monty (Jennifer) of Abilene, Texas, Merianne (Dan) Jensen of Fairfax, Virginia, Natalie (Kaveh) Sowin of Provo, and Noelle (Matthew) Toskovich of Bountiful; 13 grandchildren and nine brothers and sisters.
David worked for the Salt Lake County Parks Department and landscape architectural firms in Utah and Florida before establishing David C. Racker & Associates in 1973. He was renowned in his profession having prepared the plans for such projects as Abravenal Symphony Hall, the Delta Center and Stein Eriksen Lodge. He did numerous municipal parks, office complexes, community master plans and hundreds of residential gardens throughout the intermountain area.
He was a member of the Salt Lake and Bountiful Rotary Clubs and associated with numerous professional and fraternal organizations. He was elected to two consecutive terms as a national Trustee to ASLA and in 1995 he was inducted into the ASLA Council of Fellows. That same year he was also elected National Vice President of ASLA.
He served in various church callings in scouts, as an Aaronic priesthood advisor, Elders quorum councilor and president, councilor to three bishops, stake missionary and High Priest Group Leader. He was an amazing teacher whose gospel knowledge was unsurpassed. He served as a tour guide on Temple Square in Salt Lake City for fourteen years.
At the time of his death he was a home teacher and a basic trouble maker in the Bountiful, North Canyon 4th Ward. Funeral services Saturday, May 7, 2011 at the Bountiful North Canyon 4th Ward.
---
The above is from the Deseret News, May 6, 2011. The Committee wishes to thank Dave's family for their assistance in obtaining these materials.
http://www.legacy.com/obituaries/deseretnews/obituary.aspx?n=david-racker&pid=150794405
---
Comment by Alecia Racker, Dave's widow:
I'm sure that Dave would love to be right in the middle of the planning of the reunion. He had such a great time the last one he helped plan.
Dave really enjoyed being with friends and they meant alot to him. One of the things I miss most about Dave is his unique and beautiful mind.
He had such a way with words and he always had a comment about any subject. He always won at any word game he played.
I really miss my best friend but at least I know he isn't struggling for every breath. He was such a trooper right up to the end and he never complained. He was a great example of enduring well.
---
Comment by Merianne Racker Jensen, Dave's daughter:
Dave Racker (my dad) was one of a kind.
He was honest, hardworking, and still made time for fun. He loved spending time with his family whether it was camping, relaxing on the beach in San Diego, or sitting around the dinner table catching up on our lives.
He remained close friends with so many of his high school friends and I know he will be watching over your reunion from heaven. I love and miss you, Dad!
---
Comment by Noelle Racker Toskovich, Dave's daughter:
Dave would love to be at the reunion.
He lived for his friends, Facebook, mission reunions, high school reunions, and his family.
Thank you to all of those who have touched his life, as I'm sure he has touched many of yours. We miss you dad and love you lots!

---