Weber High School

In Memory
Russell Powell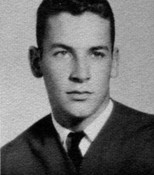 ---
Russell J. Powell
August 21, 1944 ~ November 6, 1968

---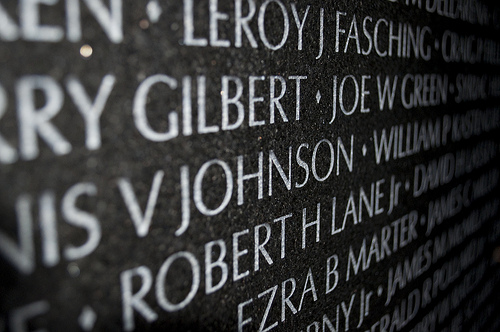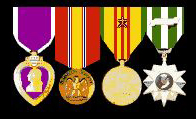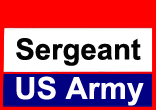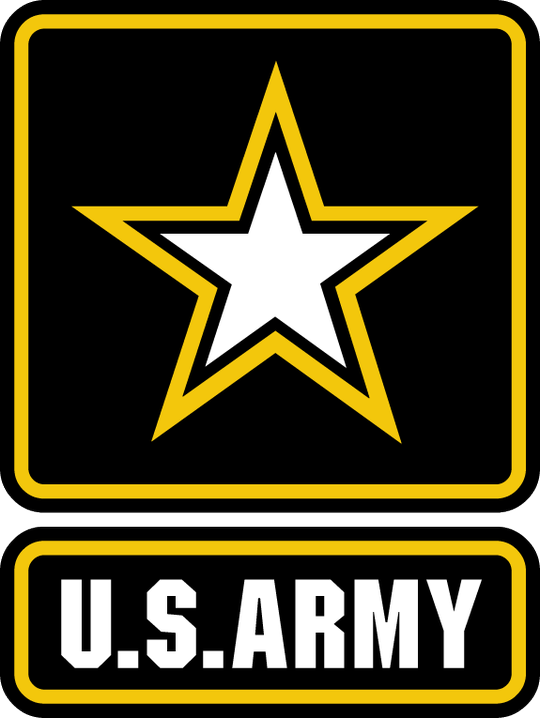 REDDING, California -
Adapted from an Ogden Standard Examiner Front Page Story (November 17, 1968):
Ex-Weber Man Killed In Vietnam
A former North Ogden man, Sgt. Russell J. Powell, 24, of Redding, California, was killed in action by small arms fire in the Demilitarized Zone in Binh Long Province, Republic of Vietnam on November 6, 1968 according to relatives and information posted on the Vietnam Virtual Wall website (see below).
He had previously been listed as Missing in Action.
Sgt. Powell was born Aug. 21, 1944, at Provo, Utah, a son of Jeul F. and Dorothy Jones Powell. He was married to Myron Rhea Row of Redding on Dec. 14, 1967, in the Oakland, California LDS Temple.
Sgt. Powell resided in Provo until 1953, when he moved with his family to Brawley, California, where they resided for six years.
In August of 1959, Russell's family moved to North Ogden where he attended school, graduating from Weber High School in 1962. He participated in basketball and baseball, and his Senior Accomplishments included being on the Swimming Team.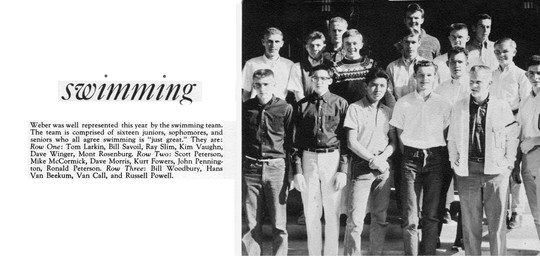 1962 WHS Swim Team - Russell is at the far top right
He also received a diploma from the Weltech College of Salt Lake City in 1963 and went to work for Hiller Aircraft Factory in California.
Rusell was an active member of the LDS Church. While residing in North Ogden, he accepted a call to serve in the Chile Mission, serving from 1964 to 1966.
He became a member of the US Army on August 1, 1967, receiving his training at Ft. Bragg, North Carolina, and Ft. Polk, Loisiana. He arrived in Vietnam on Jan. 13, 1968, serving in the infantry.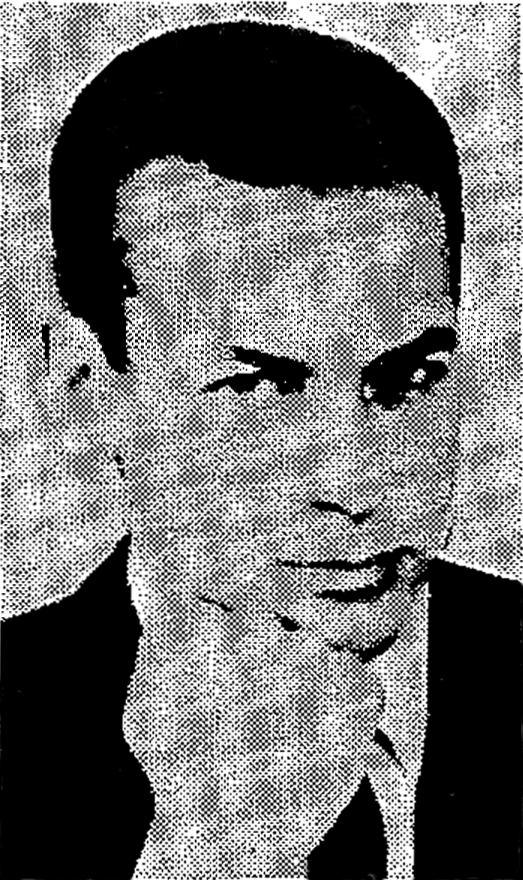 Russell's photo from scanned obituary - No other post-Weber photos have been found by the Committee. Any submissions are appreciated
Surviving were his widow, Redding; his parents; two brothers, Cody J. and Tracy J. Powell; two sisters, Kathy and Juele, all of Redding; a grandmother, Mrs. Preal M. Jones of Provo, and grandparents, Mr. and Mrs. George R. Powell, Dixon, California.
Funeral services and burial with full military rites were slated to be held in Redding when the body arrived from overseas. McDonalds Mortuary was in charge of the service arrangements.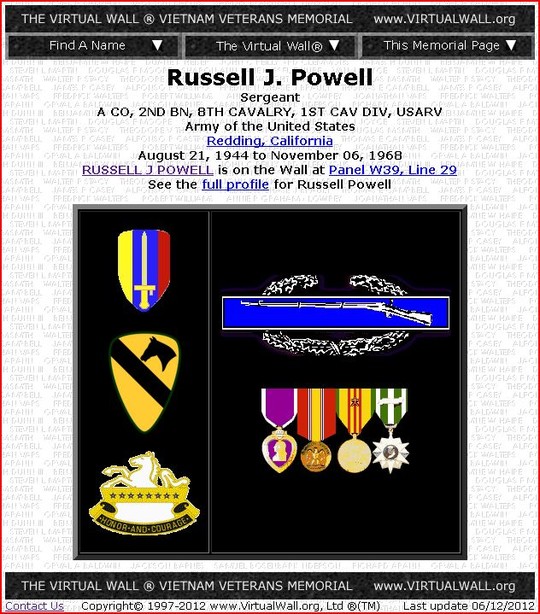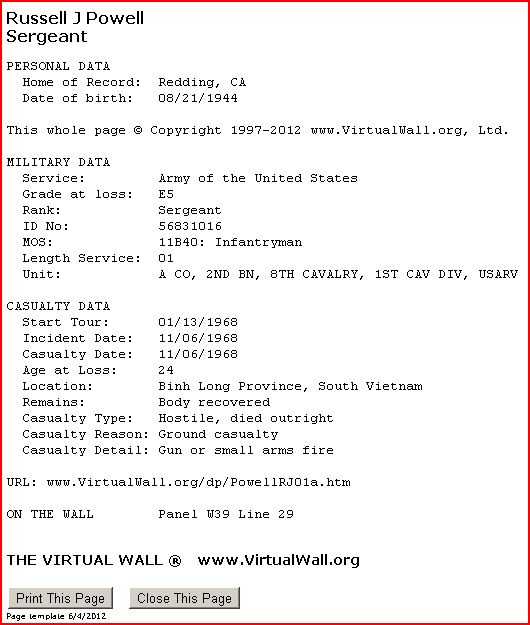 Russell's service information from www.virtualwall.com - including the details of his combat death
---
Russell's Obituary/News story from the Ogden Standard Examiner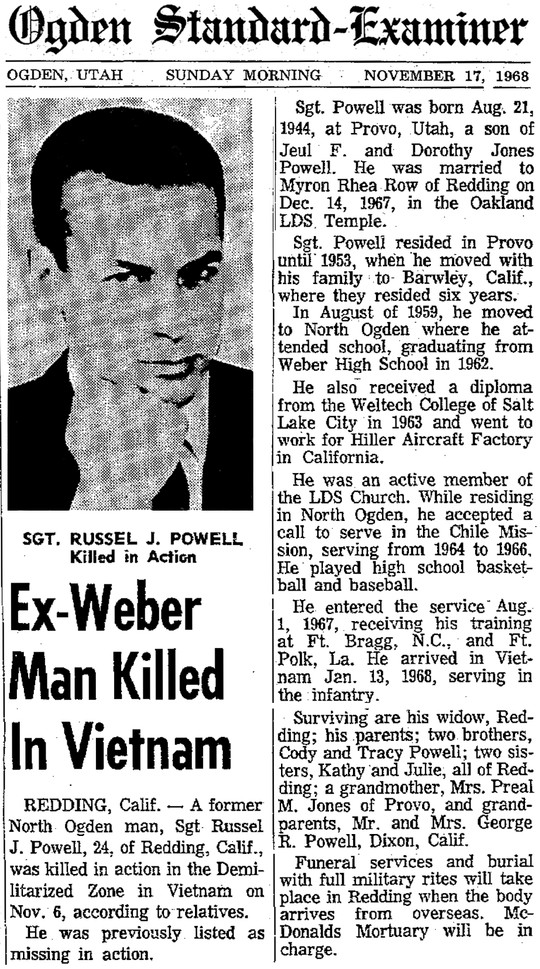 The full front page scan appears below. Russell's story is on the right.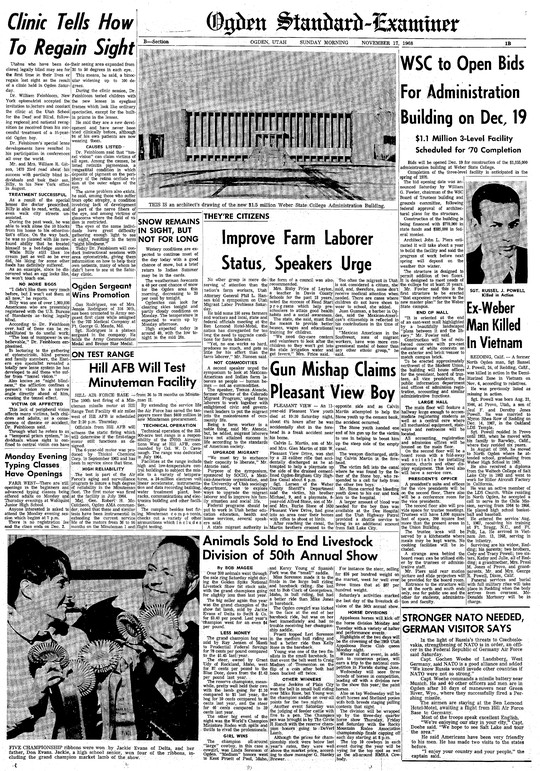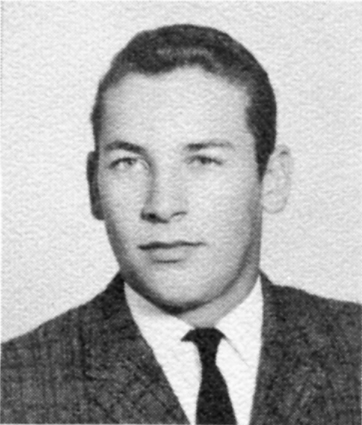 Russell in Junior Year Golden Spike (1961)
---
The Class of '62 In Memory project thanks Classmates Earl Henstra, James Keller and Richard Crawford, and Wendy Simmons Johnson (daughter of classmates Serge Simmons and Jane Chugg Renstrom) for their work on the research, coordination and posting of this page. Page posted July 14, 2012.
---