Weber High School

In Memory
Brent Peterson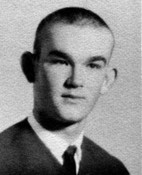 David Brent Peterson, 77, passed away on Monday February 24, 2020, at Lotus Park Assisted Living in West Haven, UT.
Brent was born in Ogden, UT on December 29, 1942, to Hyrum Vivian and Iletta Jane Hammer Peterson.
He grew up on the farm in Taylor, UT working with his dad and brother. He attended the old Taylor School, West Weber Elementary, Wahlquist Junior High, and graduated from Weber High in 1962.
Brent's working career included attending Meat Cutting School, Carnation Milling Co., American Nutrition, and Weber County School District where he retired in 2010.
Brent loved bird and deer hunting, collecting firearms, and attending gun shows. He also enjoyed reading, gardening, and action movies were his favorite.
He was an active member of the Church of Jesus Christ of Latter-day Saints.
Brent is survived by his brother, Vernon (Ida) Peterson, WA; sister Linda (Roger) Cummings, UT; nephew Ryan Peterson, WA; and three nieces, Mondie (Chris Rafoth) Peterson, Jennifer (Mark Brennen) Peterson, WA; and Kimberlee Cummings, UT. He was preceded in death by his parents.