Weber High School

In Memory
Larry Merrell Packer
---
Larry Merrell Packer
September 9, 1944 ~ January 4, 1999

---
OGDEN, Utah -
Larry M. Packer, age 54, died Monday, January 4, 1999 at McKay-Dee Hospital of complications of a seizure.
He was born in Napa, California on September 9, 1944 to Virgil Merrell Packer and Ardis Minnis Saunders. After the family moved to Utah, he attended Roy Jr. High and graduated from Weber High School in 1962.
He was an excellent craftsman and artist. He especially enjoyed leather work. He loved the outdoors, hiking, and Mountain Man Rendezvous.
He loved his family and enjoyed being with people.
Surviving were his parents, Virgil and Ardis Packer, Plains, Montana; three brothers and one sister, Utahna (Lee) Suder, Manti; Edwin E. Packer, Olalta, Washington; Joseph T. (Jean) Packer, Ft. Lewis, Washington; and four children, Debie (Peter) Huckleberry; Susan Packer; Dawayne Packer; and Michael Packer.
Cremation was done under the direction of Meyers Mortuary of Ogden.
---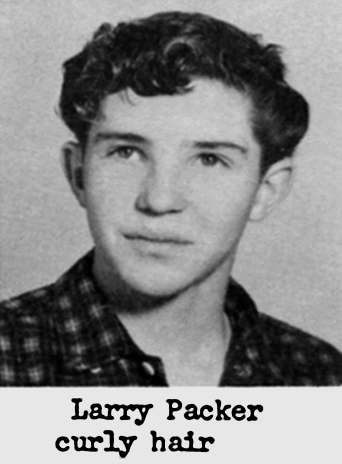 We have no later in life photos of Larry at this time other than the very poor scan in his obituary (below), though we would appreciate any that might b submitted to the site. Meanwhile, this is Larry's Picture from the 9th grade Roy Jr. High yearbook of 1958-59.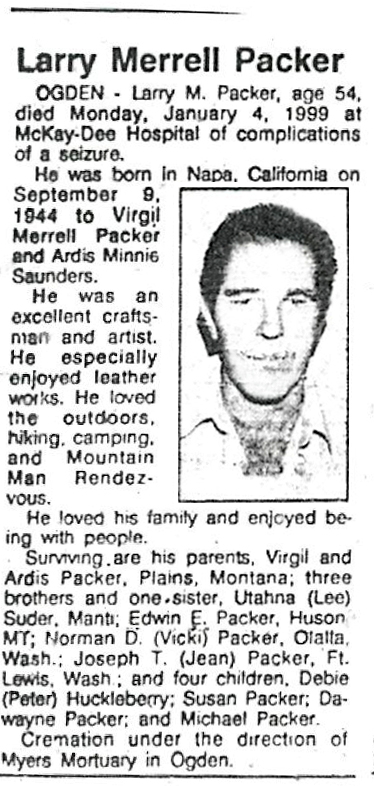 ---
The Committee is grateful for the assistance of Classmates Earl Henstra, James Keller and Tom Grimm in locating info about Larry's passing and family and in posting this page. Thanks also to the Weber County Library for furnishing the obituary scan (orignally from the Ogden Standard Examiner).
---