Weber High School

In Memory
Edward Miller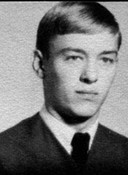 ---
Edward "Ed" Miller
April 17, 1944 ~ October 17, 1988

---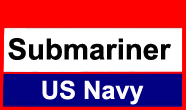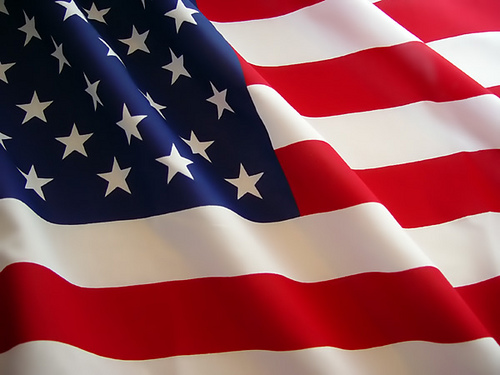 WEST VALLEY CITY, Utah -
Edward "Ed" Miller, Jr., 44, formerly of North Ogden, Utah died Monday, Oct. 17, 1988, at his home of cancer.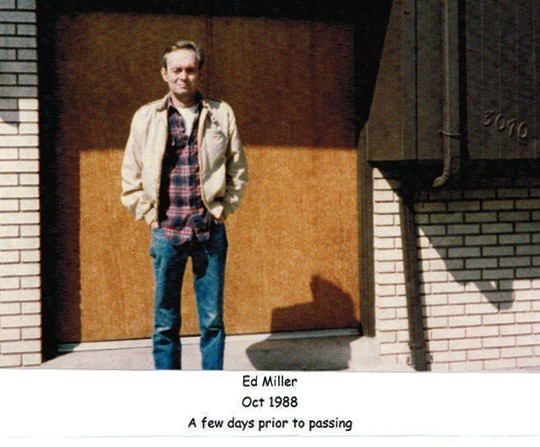 He was born April 17, 1944, in Ogden, a son of Edward Louis and Josephine "Jo" Draper Miller.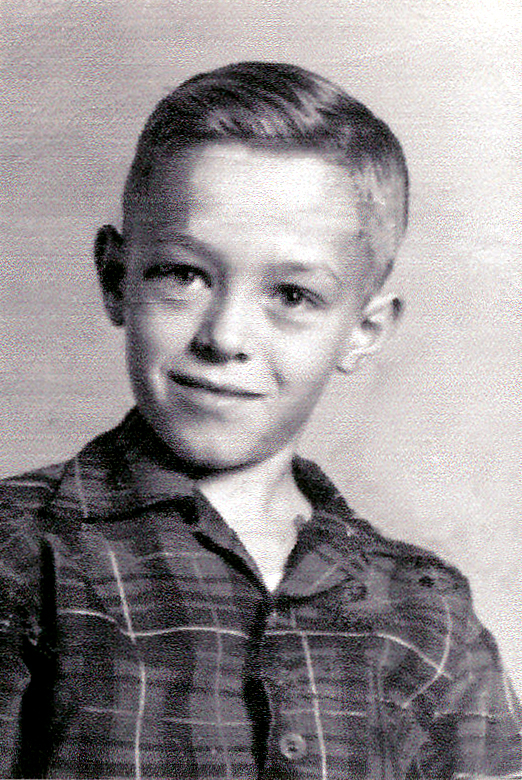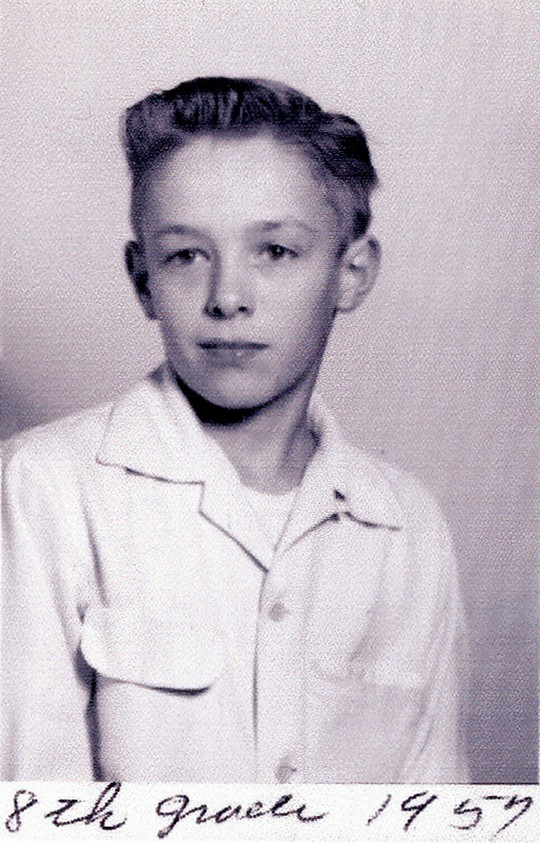 He graduated from Weber High in 1961. He graduated from La-Salle Correspondence University with a degree in transportation management.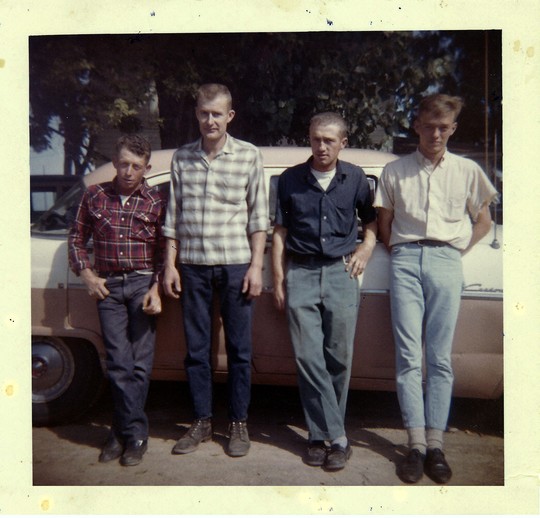 Ed and Friends (Ed is on the right)
He had served in the US Navy from 1961 to 1963, where he completed submarine training school. He received various citations and honors during his Navy career.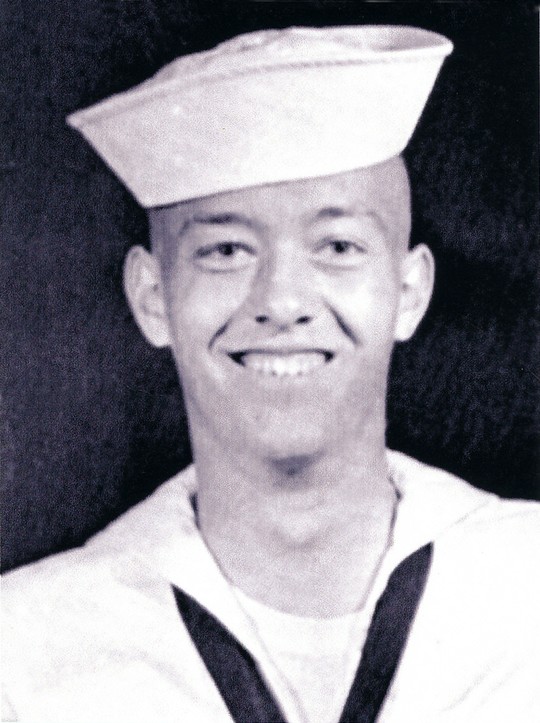 Ed in Navy days
He married Janice Selves August 31, 1963 in Caldwell, Idaho. They were later divorced. He married Linda Fergusson in 1973, in Elko, Nev. They were later divorced. On March 24, 1984, he married Norma Searle Trujillo in Reno, Nevada
He had been employed as a transportation specialist and as an accountant. He had worked at the Southern Pacific Railroad, Browning Freight Lines, Defense Depot Ogden, Fort Douglas and other transportation companies.
He was the founder and co-owner of Mountain States Traffic in Salt Lake City.
Surviving were his wife of West Valley City, three daughters, Lisa Miller, Mrs. Evan (Kelly) Brainard, and Jody Miller, all of Long Beach, Calif,; four stepdaughters and three step sons, Cindy Holt, Toni Lems, Michelle Rushton, all of West Valley City; Cole Trujillo, Deann Pack, both of Salt Lake City; Lance Trujillo, Logan; Peter Pulli, Germany; and six grandchildren.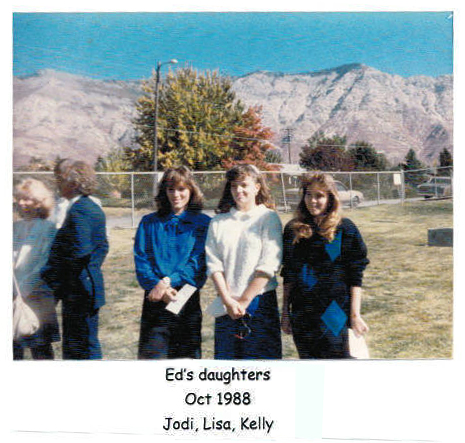 Also surviving were his mother of North Ogden, a grandmother, Lillian A. Draper, American Fork; three brothers and three sisters, Mrs. Willard (Sharon) LeFevre, Carmel, Ind.; Mrs. David (Marcia) Parker, Dennis T. Miller, both of Layton; Mrs. Dale (Marilyn) Nye, and Douglas K. Miller both of Ogden; Roger T. Miller, Slaterville.
He was preceded in death by a son.
Services were held Friday at 11 a.m. at the Meyers Mortuary Chapel in Ogden, 845 Washington Blvd., where friends were invited to call Thursday from 6 to 8 p.m. and Friday until 10:45 a.m.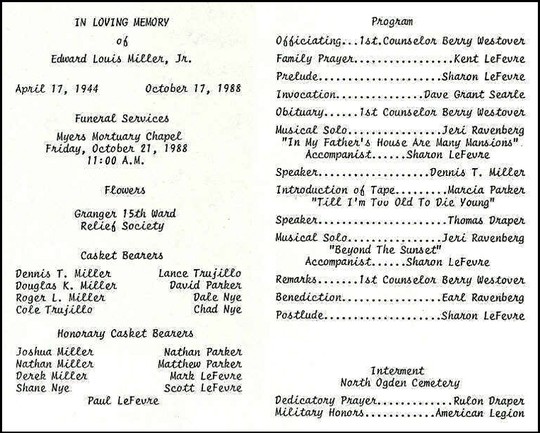 Internment was in the North Ogden Cemetery where military honors were accorded by the American Legion Color Guard.

---
The Committee expresses its sincere gratitude to Ed's family via his sister Sharon LeFevre for making these materials available to us, to Classmates Earl Henstra, Tom Grimm and James Keller; and also to Wendy Simmons Johnson (daugther of two Classmates) and the Salt Lake City Library for assistance in their discovery, preparation and posting. Page posted 6/6/2012.
---