Weber High School

In Memory
Susan Ann Manion (White)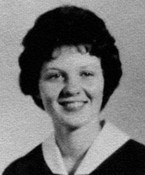 ---
Susan Ann Manion White
September 11, 1944 ~ May 6, 2007

---
SALT LAKE CITY, Utah -
Susan Manion White passed away Sunday, May 6, 2007 in Salt Lake City.
Susan was born September 11, 1944 in Presque Isle, Maine to William and Edna (Olsen) Manion. She graduated from Weber High School in Ogden, Utah in 1962.
After marrying Steven L. White in 1963 and having her first daughter in Salt Lake City, the family moved to California, then to Hawaii, where her second daughter was born, and then back to California.
The family then settled in Thousand Oaks, California where Susan pursued various careers and attended UCLA, but we have no information about her personal life after 1982. The last job we know of was working as an Industrial Relations Assistant, recruiting engineers in the electronics industry.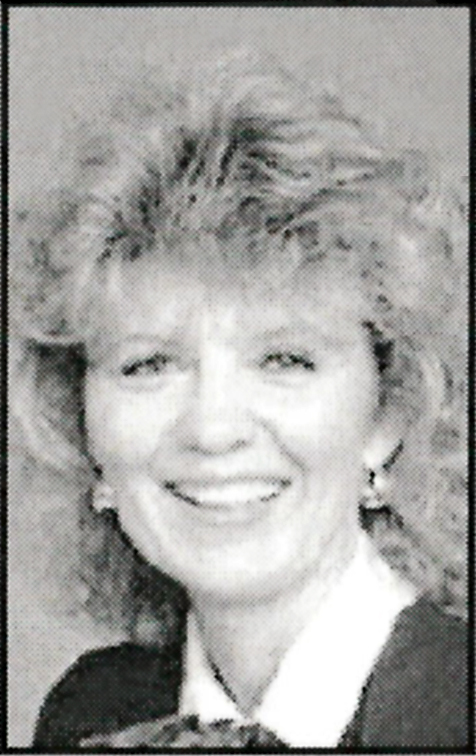 Her hobbies at the time included motocycling, bicycling, tennis, golf and competitive archery.
She was survived by her two daughters, Teri Ann (Shawn) Cooper and Jennifer Denny; three grandchildren and two sisters, Joan (Ned) Kohler and Cindy (Kerry Thompson); and an aunt, Lorna Jones.
She was preceded in death by her parents.
Funeral services for Susan were held on Friday, May 11, 2007 at 10 a.m. at the Cottonwood 1st Ward, 5913 Highland Drive in Salt Lake City, Utah.
Arrangements were under the direction of Aaron's Mortuary and Crematory, 1600 Washington Blvd, Ogden, Utah. Interment was in Logan City (Utah) Cemetery.
Condolences were invited to be extended to the family at aarons@relia.net.
---
Susan volunteered in the Office at Weber - 2nd Row far right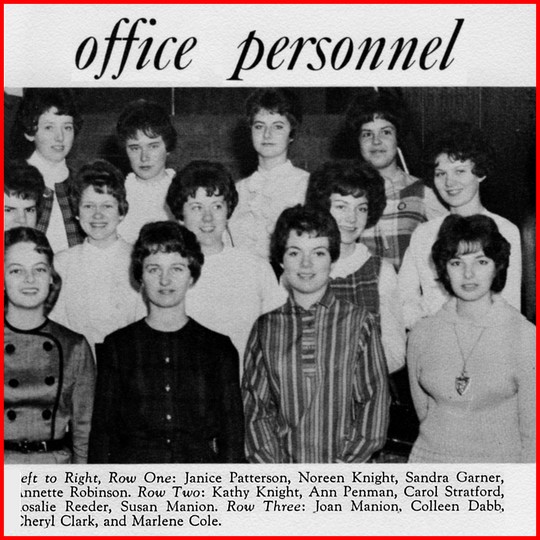 ---
Susan made submissions to the 1972 and 1982 Reunion books (below) which provide a window into her life during the 20 years after she attended WHS. Additional materials, photos for and Memory comments on these pages are always welcome.
---
From the 1972 Reunion Book:

From the 1982 Reunion Book:

---
Susan's Obituary - Likely from the Ogden Standard Examiner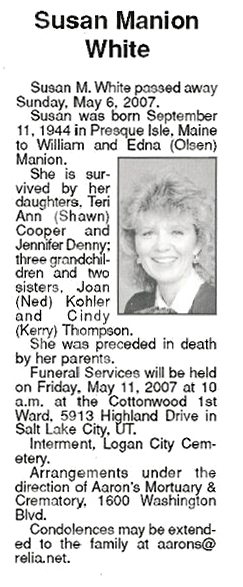 ---
Additional Family info:
Father: William Carroll Manion (1911-1959) • Mother: Edna May Olsen (1919-1971)

Parents married: 20 November 1943 in Fort Fairfield, Aroostook, Maine
---
The Class In Memory Project thanks Classmates Janis Stokes Wuthrich, Earl Henstra, James Keller and Richard Crawford for their assistance with Susan's Page. Posted 7/17/2012.
---