Weber High School

In Memory
Robert Lowder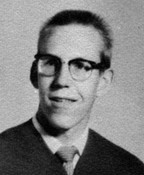 Robert Ira Lowder, 76, passed away unexpectedly but peacefully, at home. He was born in Ogden, Utah to Ira Jay and Doris Rhees Lowder. His younger years were spent working hard on his grandparents' fruit farm in Pleasant View. He often spoke of driving the wagons of sugar beets to load on the fruit trains, and working and growing with his Uncle, who was more of a brother, Ralph.
Bob graduated from Weber High School in 1962. He fulfilled an honorable mission in the New Zealand Mission, where he made many lifelong friendships. He returned home to North Ogden to complete his education at Weber State. Following his mission, he renewed a friendship and soon married his eternal companion, Vicky Mikkelsen in the Logan Temple on June 9, 1966. This union was blessed with seven children. Mom is truly missing half of herself, as they completed each other.
Bob loved the Gospel of Jesus Christ and loved being active and fulfilling his many callings, including Elders Quorum President, High Priest Group Leader, High Councilor, Bishopric member, and Faithful Home Teacher and Minister for all of his adult life. Bob and Vicky were ordinance workers in the Laie, Hawaii Temple and served a mission together in the Utah Ogden Mission. They were also Beloved Sunday School Team Teachers in the Pacific Islands.
Bob loved being outside and worked construction his entire career, from the time he was ten years old. He worked for Les Garner Construction, Big D, Bud Bailey, and Jacobson Construction. For a time, he owned his own construction company, but he was too kind and generous to support a family, always giving more than he could afford. He loved constructing beautiful buildings, and his craftsmanship can be seen throughout the Western States. Many years were spent building churches, and stake centers throughout the Pacific Islands. The final years of his career were spent fulfilling his dream of building Temples. He and Vicky were hand in hand, as they built the Kona Hawaii, Apia Samoa, and Gila Valley Arizona Temples. They were asked to build a Temple in Africa, but it was time to come home, to spend time with children and grandchildren, who all chose to settle within a few miles of their home.
Above all, family meant everything to Bob. He loved with all his heart!! He taught his children the value of hard work, as the family worked on our small farm in Clinton. Each of us learned skills in gardening, canning, home maintenance, and car repair. He taught us to love the outdoors, leaving a legacy of hunting, fishing, and picnicking. Dad was an incredible cook. He loved family dinners, especially the annual Chinese dinner and back yard barbecues. We worked together, learned together, and built memories together.
Only those closest to Bob ever knew the trials he endured. He had serious health problems from childhood, but he always had a smile and did what needed to be done. He truly was superhuman. Although he was told he would never live to see his children grow up, he fought valiantly to stay; even seeing grandchildren and great-grandchildren enter the family. In the end, his body was just too tired to hold on. He will still be watching over us, as he has his sight back now.
We are certain there was a wonderful reunion, as he joined his parents, grandparents, and brother. He had been missing them desperately in the last several years. He and his mom are dancing in Heaven, as they both have their legs again!!
Bob is survived by his "Hon", Vicky; their children, Bryce Robert (Stephanie) Lowder, Sunset; Carla Ireen (Scott) Steed, Roy; Denise Marie (Brent) Perkins, Sunset; Courtney Ira (Joei) Lowder, Roy; Dixie Lee (Carl) Stettler, West Point; Aaron Scott (Nicole) Lowder, Hooper; and Lance Rex (Sarah) Lowder, Roy; 19 grandchildren, and 20 ½ greatgrandchildren. Each one was deeply loved and remembered by Bob. Three brothers and a sister, Lewis (Raenee) Lowder, West Weber; Steven (RaDonna) Lowder, Mantua; Kathleen (Gary) Robinson, Harrisville; and Kevin Lowder, West Point. He was preceded in death by his parents and a brother, Gary Scott Lowder.
https://www.lindquistmortuary.com/obituaries/RobertBob-Lowder