Weber High School

In Memory
Karen Knight VIEW PROFILE
---
Karen Knight
June 20, 1944 ~ 6 November, 2012

---
Ogden, Utah -
The materials on this page blend Karen's Obituary with other materials assembled by the Committee
Our loving friend, mother and grandmother, Karen Knight, 68, passed away on November 6, 2012 after a long, courageous battle with kidney cancer. She was born on June 20, 1944 to Wallace and Jeane Knight in Ogden, Utah.
Karen graduated from Weber High School in 1962 where she was First Vice President of the Student Body in her senior year and involved in many activities.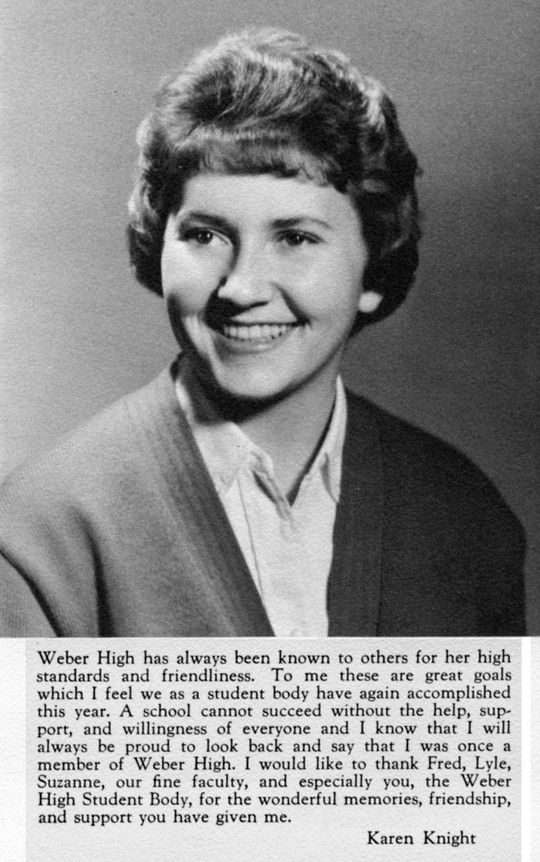 Karen's Student Body Officer Statement
Karen's Senior Accomplishments listed in her Senior Yearbook included: Student Council, F. H. A., Ski Club, Pep Club, Safety Committee, Social Committee, Campus Committee, Assembly Committee, Red Cross Representative, Indian School Exchange, "Home Coming Queen Attendant," Student Council, Student Body First Vice President, Student Police, Assemblies and Seminary Graduate.
She later graduated from Utah State University where she was Junior Class Vice President and President of Chi Omega sorority. She was elected to Who's who in American Colleges and Universities and graduated with a degree in physical education and psychology.
She married Richard Adams and they were later divorced.
Karen was a member of The Church of Jesus Christ of Latter-day Saints and held various positions.
She taught at Bonneville High School for 5 years, where she was in charge of the Lakettes Drill Team. She later went to work as a real estate agent and broker for 23 years.
Karen submitted the following for the Class Reunion book published in 1982:

And for the 40th Year reunion book, she sent in this page.....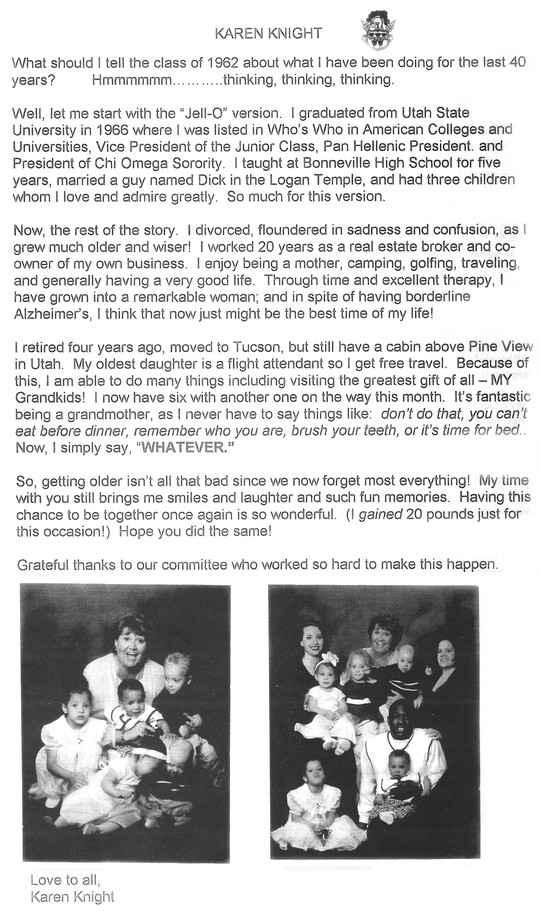 After moving to Tucson, Arizona in 1998, she was employed with Titanium Solutions as the Arizona Home Retention Specialist.
Karen enjoyed skiing, golfing, fishing, and going to Island Park for trips with her family and friends. The greatest joy of her life was her children and grandchildren. Karen had a wonderful enthusiasm for life. She made this world a better place and will be greatly missed.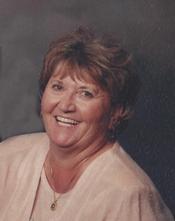 Surviving is her beloved friend, Shirlene DeHart, Tucson, AZ; children, Amy Jean Wheeler, Tucson, AZ; Ryan Richard Adams, South Ogden, UT; and Angie (Derrick) Beatty, South Ogden, UT; 10 grandchildren; brother, Kelton Knight and sisters, Trudy (Tom) Hill and Marilee (Dennis) Bubash.
She was preceded in death by her father, Wallace M. Knight and nephew, Johnathan Kelton Knight.
Funeral services will be held on Monday, November 12, 2012 at 11 a.m. at Lindquist's Ogden Mortuary, 3408 Washington Blvd. Friends may visit with family Sunday from 6 to 8 p.m. and Monday from 9:45 to 10:45 a.m. at the mortuary.
Interment, Lindquist's Washington Heights Memorial Park, 4500 Washington Blvd.
Karen's family wishes to thank Dr. Lorraine L. Mackstaller, Dr. Evan M. Hersch, Agnes Yahl, FNPC, and the staff at the Arizona Cancer Center Clinic at UMC North and Encompass Hospice nurses and staff.
---
Her obituary (below) has been posted, and sympathy comments were being accepted at:
http://www.meaningfulfunerals.net/fh/obituaries/obituary.cfm?o_id=1799091&fh_id=13348
---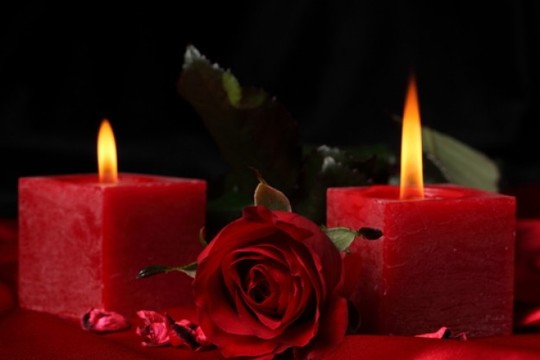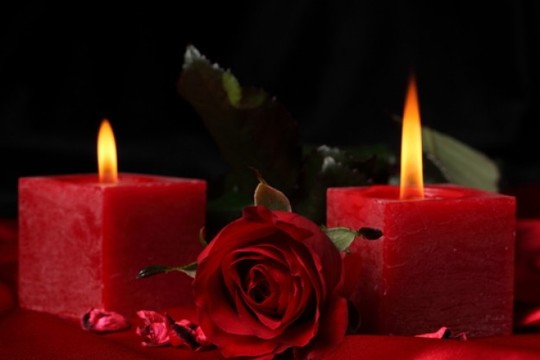 Click here to see Karen's last Profile entry.