Weber High School

In Memory
Maxine Kato (Kwanishi)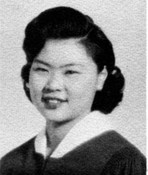 Maxine M. Kawanishi, age 75, passed away Thursday, December 5, 2019.
Maxine was a teacher for Huber Heights City Schools, a member of Faith Presbyterian Church & the Japanese American Citizenship League. She loved singing and performed in many choirs including Faith church and the Kettering Community Choir. Maxine was a DDN Ten Top Woman and enshrined in the Huber Heights Performing Arts Hall of Fame.
Maxine is survived by her husband, George H.; sons and daughters-in-law, Kevin & Lisa of TX, Kenny & Audrey of Beavercreek, Brian of Englewood; grandsons, Kyson and Austin.
https://www.legacy.com/us/obituaries/hamilton/name/maxine-kawanishi-obituary?id=2243087