Weber High School

In Memory
George Jacques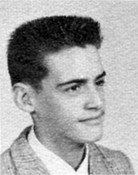 The most incredible human passed away Friday May 13 2022, George Leroy Jacques.
Many people know our Dad, and to most, he was considered not just a great friend but family. He always knew someone everywhere he went. He worked at the car parts store more than half his life and he loved that job, he loved the people. You knew if he wasn't at the store, he was at the ballpark. He had such a love for softball back from the old FECO team days, to all the co-ed teams and then the Huntsman World Senior games. Many friends also remember the times spent at Pineview with speedboats or at the drag races and car shows. As well as all the meals at Moore's Restaurant. He really was an incredible man. He was always willing to help anyone, anytime. He will be greatly missed by many. We love you Dad!
He is survived by his brother Clyde (Delma) and Daughters Debbie (John) and Kensey. His 4 grandchildren Brittany, Jake, Amber and Marlee and 1 great grandchild Braylon.