Weber High School

In Memory
Myrna Hammer (Mortenson)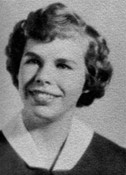 ---
Myrna Hammer Mortenson
November 23, 1943 ~ April 26, 1995

---
VERNAL, Utah –
Myrna Hammer Mortenson, 51, died April 26, 1995 in a Vernal hospital. She was born November 23, 1943 in Ogden, Utah to William Duard and Opal Gibson Hammer and graduated from Weber High School in 1962.
She married Val J. Mortenson September 18, 1964 in the Salt Lake Temple. As an active member of the LDS Church, she served in various stake and ward auxiliaries. She was also active in various sports and was a school teacher in the Vernal Middle School.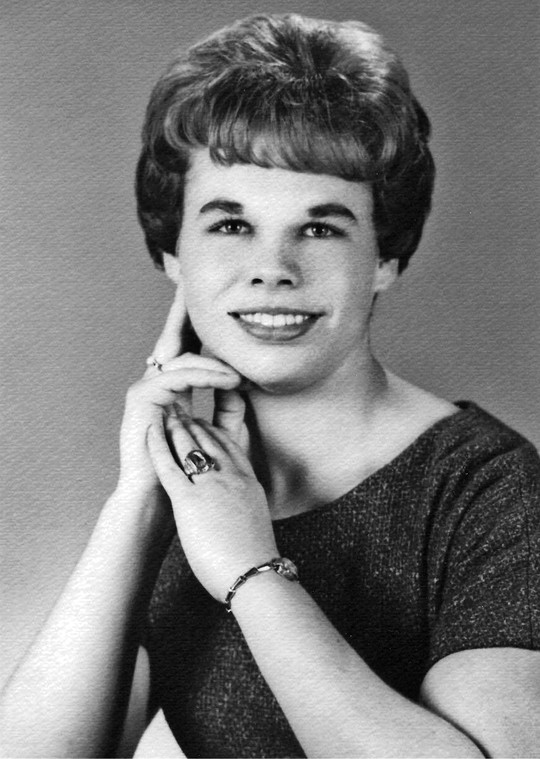 Myrna was a loving mother and homemaker who was survived by her husband and sons: Valton D. Mortenson, William Colt Mortenson, Duston G. Mortenson, Juston H. Mortenson and Marty Ace Mortenson, all of Vernal; and her mother: Mrs. Opal Hammer of Taylor, Utah; her brothers and sisters: Mrs. Howard (Karen) Vause, Plain City, Utah; Jay Hammer of Taylor and Dan Hammer of West Weber, Utah; and Peggy Hammer of California.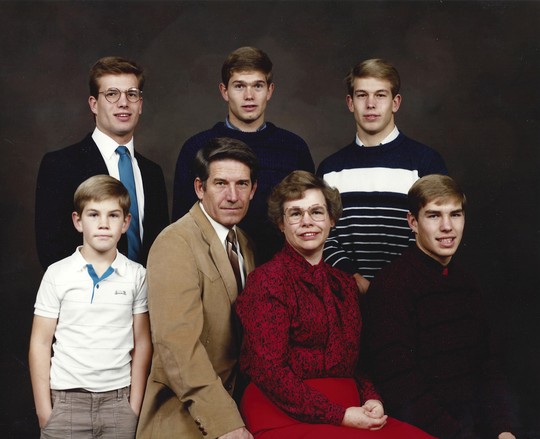 Myrna and her family in 1989
She was preceded in death by her father.
Funeral services were held Saturday 11:00 a.m. at the Glines 5th Ward, where friends were able to call Friday 7-9 p.m. and Saturday one hour prior to services. Burial was in the West Weber Cemetery at approximately 5:00 p.m. Funeral Directors Olpin Mortuary, Heber City.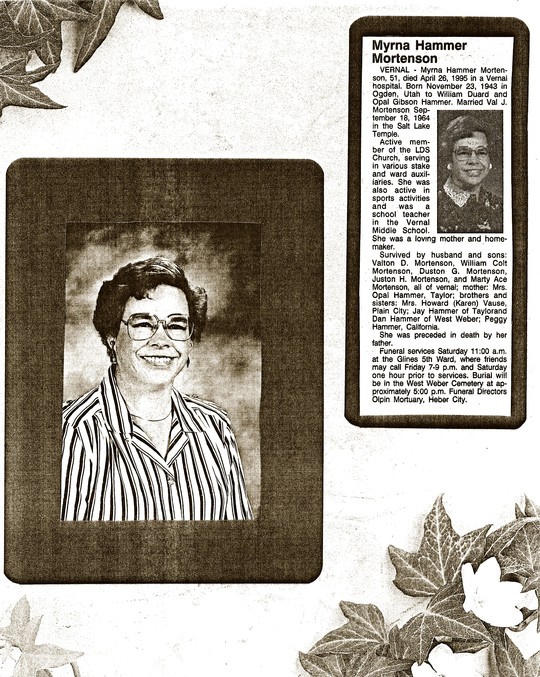 ---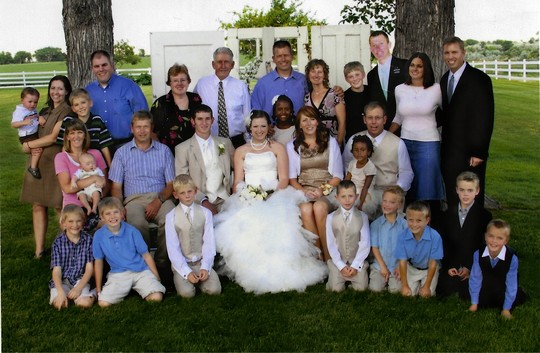 Mynra's extended family in 2012
---
The Committee extends its sincere thanks to the Mortenson family for making her obituary and the above images available and to Classmates Earl Henstra, Tom Grimm and Jim (Maynard) Keller for assisting in coordinating the posting of this page.
---