Weber High School

In Memory
Sandra Leigh Garner (Grimm)
Sandra Leigh (Garner) Grimm
November 15, 1943 ~ October 7, 2016

---
BOUNTIFUL, Utah -
Our dear wife, mother, "Fammie/Sam" returned to her Heavenly Father's open arms on Friday, October 7, 2016, where she was reunited with her father, Elmer Amos Garner, as he died when she was four months old. There will forever be an empty space in our hearts.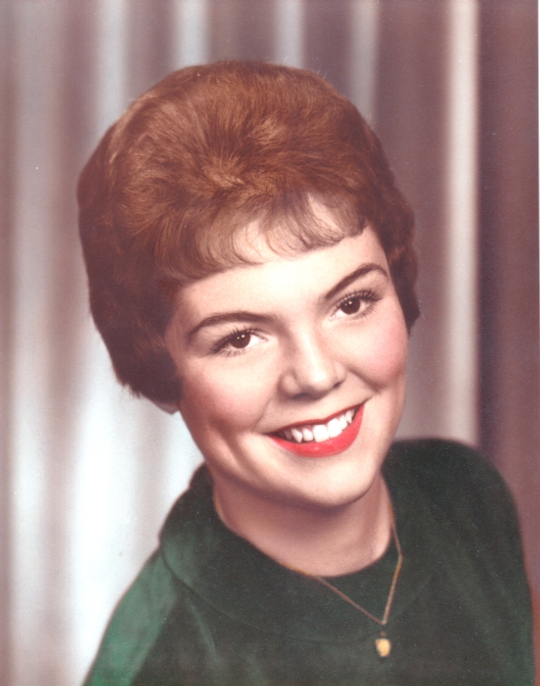 There is a 10 minute video slide show of Sandy's life on the Lindquist website: http://www.lindquistmortuary.com/notices/Sandra-Grimm
Sandy was born in Ogden, Utah, the only child of Elmer and Della Garner. Her passion in life was anything pertaining to her family. If the beat was right, you would find her dancing, which she loved. She graduated from Weber High School in 1962 and was crowned Miss Roy that year. She then attended Weber State University.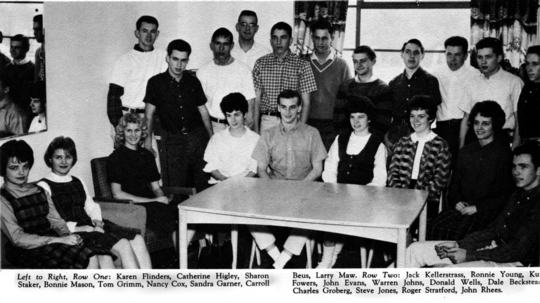 Senior Council (seated, right side of table)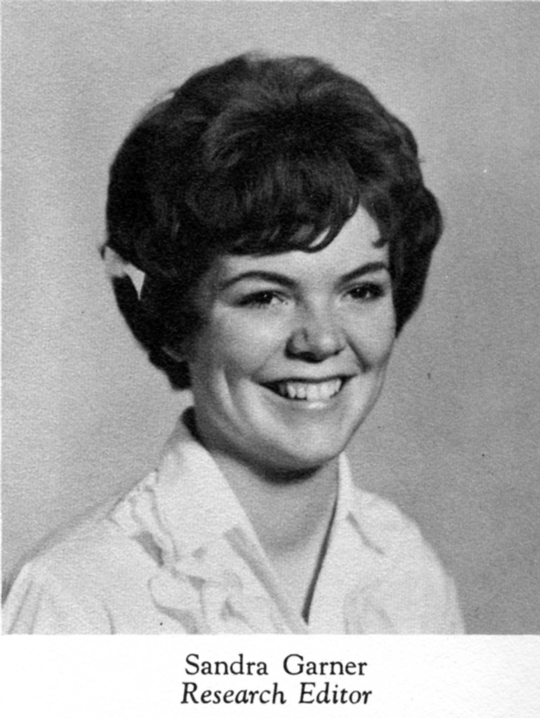 1962 Golden Spike Research Editor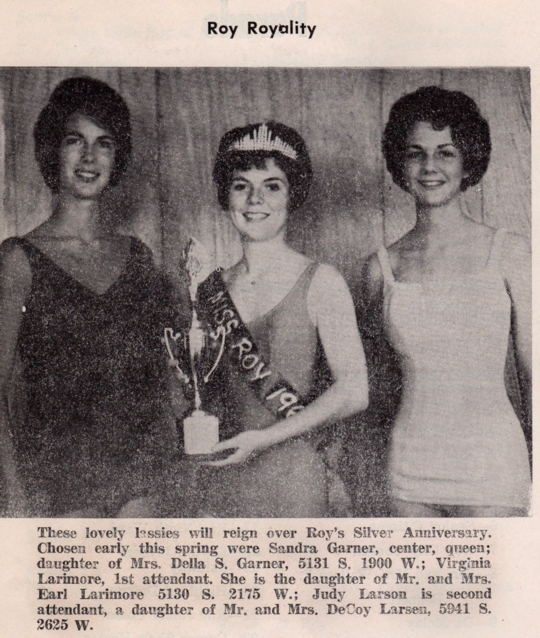 Miss Roy,1962 (center)
She met her sweetheart of almost 54 years, Tom Grimm, at Wahlquist Junior High School. They had many amazing years traveling together, as Tom enhanced his retail career. She was Tom's greatest cheerleader and supporter.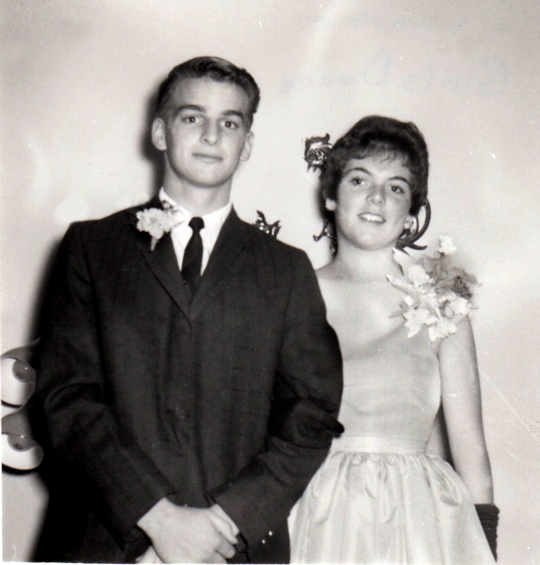 At Weber, Sandy was very active in school activities. She was a member of the Warriorettes, Research Editor of the Golden Spike, represented Weber at the USU poetry festival, was in the Dance Club, Senior Council and Social committee, a Girls State alternate, Assistant Director of the "January Thaw," participated in the Indian Exchange activity, volunteered in the school office, and was a Seminary Graduate.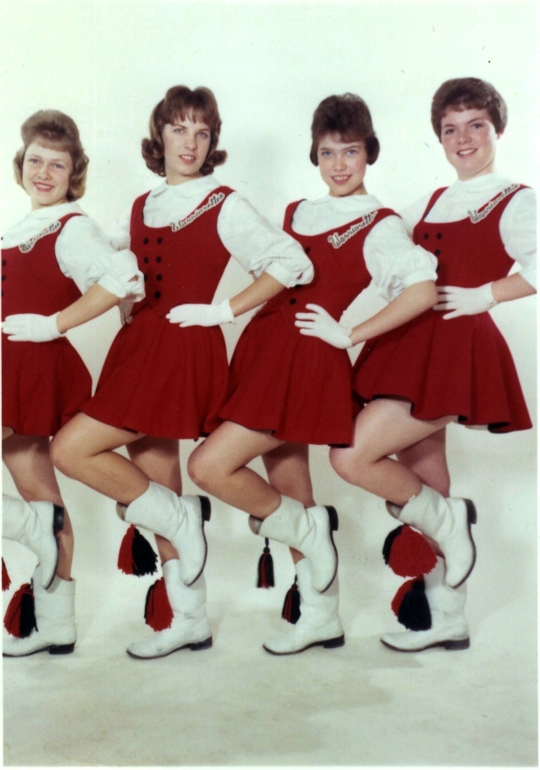 Sandy in the Warriorettes (far right)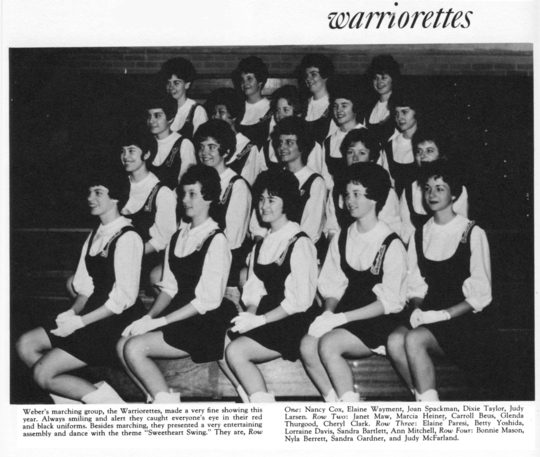 Sandy, 2nd from right, front row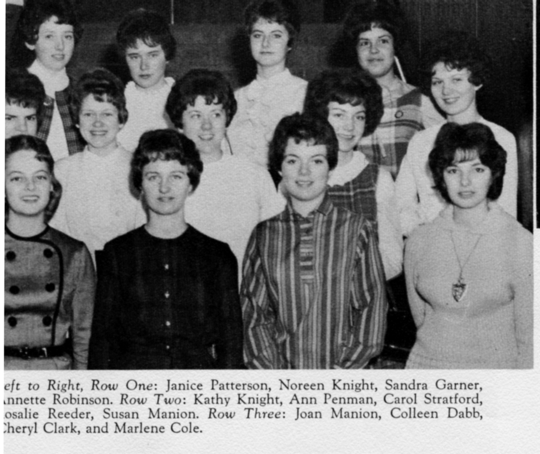 Volunteer Office Staff - front row, 2nd from right
Sandy was the first person to show support to those in need. She listened intently to anyone who needed a shoulder to cry on, and was the most selfless person. She was there to give a hug or tell you things would be okay. We will carry those words with us forever. She was truly a great friend to all that met her. She made many lifelong friends. We were so blessed to have the best mom and "Fammie/Sam" ever.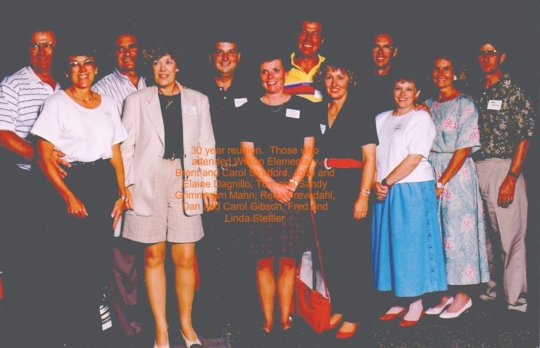 Attending Tom's Wilson Elementary 30th Class Reunion, front row center (appx. 1980)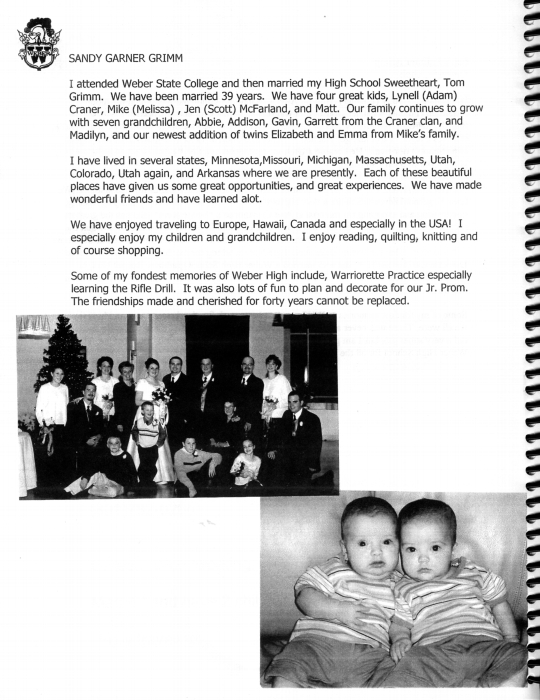 Samdra's reminiscences in the 40th year Class Reunion book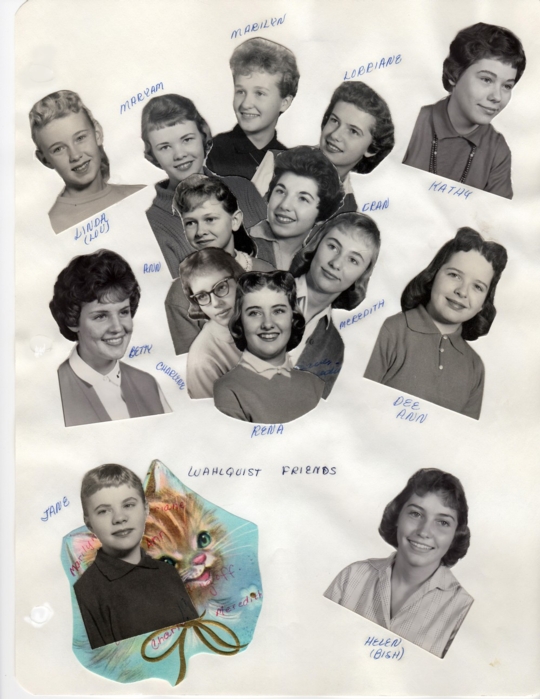 Always thinking of her friends - collage from Wahlquist Jr. High days made by Sandy
Sandy was a faithful member of the Church of Jesus Christ of Latter-day Saints and was an amazing Relief Society teacher. She would study for hours and hours because she wanted to make sure it was just right. She was also a dedicated early morning seminary teacher while living in Bentonville, Arkansas. She loved to knit and quilt, making a quilt for each grandchild. She enjoyed reading, especially James Patterson books. She was always up for a good time with her family and grandkids.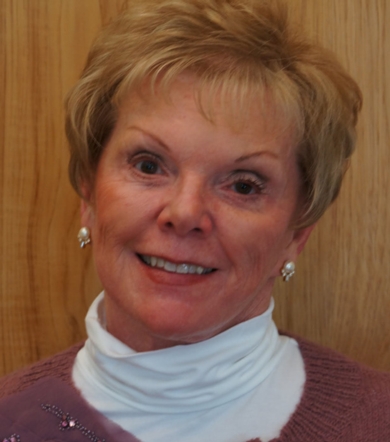 She is survived by her husband, Tom Grimm; children Lynell Craner (Adam), Kaysville, Michael (Melissa), Bentonville, AR, Jennifer (Scott,) Kaysville and Matthew (Lyndsey), Farmington; 15 beautiful grandchildren, which were the joy of her life, and she was blessed with one great grandchild, with another on the way.Our family is most appreciative to the Huntsman Cancer Institute, Dr. Wallace Akerley and his team, Orchard Cove and the amazing ladies from Danville Home Health, Seini, Salome, Ofa, VaHoi, Sala, Jenny and Kyesook, and her hospice nurse, Ashley, and the team from South Davis Hospice. In lieu of flowers, the family has asked that donations may be made in Sandy's name to the Huntsman Cancer Foundation, for Lung Cancer research.
Funeral services will be held at 11:00 AM, Saturday, October 15, 2016 at the Mueller Park Ward, 1800 E. Mueller Park Rd. Bountiful, Utah. Friends may visit family Friday, Oct. 14th from 6-8 pm at Lindquist's Bountiful Mortuary, 727 N. 400 E. and Sat. Oct. 15th from 9:30-10:30 at the Church prior to services.
Interment Ben Lomond Cemetery. Condolences may be left here in the comments sectioin or at http://www.lindquistmortuary.com/notices/Sandra-Grimm/guest-book
Charitable donations may be made to:
Huntsman Cancer Foundation
500 Huntsman Way, Salt Lake City, Utah 84108,
Tel: 1-877-585-0303
---
Thanks to Classmate Dan Gibson and others for making the class aware of her passing and to Classmate (Maynard) James Keller for coordination of posting the page.
Obituary from: http://www.lindquistmortuary.com/notices/Sandra-Grimm and http://www.standard.net/Obituaries/2016/10/12/Sandra-Grimm Page posted 10/10/2016; Last page update 10/12/16
---