Weber High School

In Memory
Ardell Fowers (Hansen)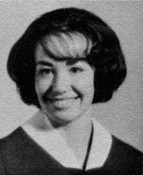 ---
Ardell Fowers Hansen
June 8, 1944 ~ December 21, 2011

---
OGDEN, Utah -
From ObitsUtah.com:
Ardell Hansen
June 8, 1944 ~ December 21, 2011
On the afternoon of December 21, 2011, surrounded by her children, Ardell Fowers Hansen crossed over to a higher plane of existence and was re-united with loved ones who had gone before. She was 67 years old.

She was born on June 8, 1944 to Keith Leland Fowers and Evelyn Jean Hess Fowers. She grew up in Ogden and Roy, and graduated from Weber High in 1962, the same year she married Lyle Grant Hansen.

She worked in the advertising department at the Ogden Standard Examiner for many years.

Ardell was preceded in death by her husband and parents.

She was survived by her children; Brian Hansen, Steve Hansen (Kerry), and Kelly Hansen Wright (Brent); her siblings, Karen, Michael, Kim, and Connie; as well as her grandchildren, Connor and Paige.

Special thanks to Juliet and Maddi of Good Shepherd Hospice for going above and beyond.

Quoting the obituary: "Our mother didn't care for funerals, so there won't be one. Hold a personal memorial in your heart."
---
The Class In Memory Project thanks Classmates Earl Henstra and James Keller for locating and posting this information. Link where obituary was found: http://obitsutah.com/obituary/10941/ardell-hansen.htm
---