Weber High School

In Memory
Claudia Field (Drake)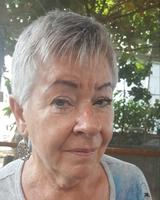 In loving memory of Claudia Annette Field Drake, it is with great sadness that we announce her peaceful passing on July 9, 2023, at the age of 78. Known affectionately as Mom or Grandma, Claudia slipped away while snoozing in her recliner at home. She leaves behind cherished memories that will forever be etched in our hearts.
Born on September 22, 1944, in Ogden, Utah, Claudia was the youngest daughter of Leamond and Mildred Field. She grew up in the Marriott-Slaterville area and graduated from Weber High School. Claudia was a lifelong member of the LDS Church, though she was not shy about indulging in a glass of wine every now and then.
On January 12, 1963, Claudia married the love of her life, Dell Robert Drake, affectionately known as Corky. Together, they embarked on a journey of love and commitment, raising a beautiful family of two daughters and two sons. While they initially resided in Ogden and Layton, in 1972, they found their forever home in Sunset, where Claudia spent 51 remarkable years. Sadly, Corky passed away in 1997, leaving a void that could never be filled.
Mom excelled in her role as a Domestic Engineer, skillfully managing the household and nurturing her family. Additionally, she worked for the IRS and Convergys Marketing, displaying her versatility and dedication. Even in her seventies, she remained energetic and robust, insisting on mowing her own lawn. Springtime brought her joy as she diligently weeded her gardens in anticipation of her cherished tulips. Moreover, Mom's culinary skills were unmatched, and her holiday meals became legendary, especially her delectable turkey stuffing.
Animals held a special place in Mom's heart, and her home was never without a furry companion. She will undoubtedly find immense joy in reuniting with beloved pets such as Sadie, Buttercup, Sassy, and Cleo, among many others.
With a heart full of passion, Claudia immersed herself in various hobbies that brought her joy. She found solace in the art of sewing, skillfully crafting beautiful pieces. Her love for reading extended to the enchanting world of fantasy novels, where she embarked on countless imaginative journeys. In the kitchen, Mom's talent truly shone as she baked the most delectable cookies and cakes, ensuring her children and grandchildren were always delightfully spoiled. However, her greatest fascination lay in the boundless expanse of the solar system, galaxies, and the Universe itself. Adorning her basement were picture books and posters showcasing the mesmerizing wonders captured by the Hubble Space Telescope. As Mom's spirit now ventures into the cosmos, she embarks on her own journey to explore the vast and infinite marvels that fascinated her so deeply.
Claudia is survived by her loving children, Steve Drake, Greg Drake, Karen Drake, and son-in-law, John Long; her grandchildren, Robert Long, Daniel Long, Jared Long, Jacob Long, Kristin Drake, and Sydney Drake; her adored great-grandchildren, McKenna Long and Kanyon Long; and her sister, Delores Goodman. She was preceded in death by her beloved husband, Corky; her eldest daughter, Barbara Drake-Long; her parents, Lee and Millie; and her sister, Mickey Ophikens.
In the wake of Claudia's passing, may we find solace in the beautiful memories we shared and the legacy of love she leaves behind. She will forever be missed and cherished in our hearts.