Weber High School

In Memory
Janeen Farr (Saxton)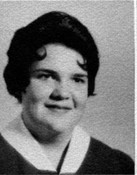 ---
Janeen Farr Saxton
May 29, 1943 ~ May 31, 1991

---
OGDEN, Utah -
Janeen Farr Saxton, 48, died Friday, May 31, 1991 in the St. Benedict's Hospital in Ogden of cancer.
She was born April 29, 1943 in Ogden, a daughter of Morris Joseph and Martha Grace Davis Farr.
She married Phillip Max Miller August 7, 1963; they were later divorced. She married James A. Saxton November 15, 1980 in North Ogden; the marriage was later solemnized in the Salt Lake LDS Temple February 13, 1982.
Janeen in 9th Grade at Wahlquist
We have no "after-Weber" pictures of Janeen, however we will gladly post any submitted.
She received her education from North Ogden Elementary, Wahlquist Jr. High, and graduated from Weber High School in 1962, and also graduated from Weber's LDS Seminary.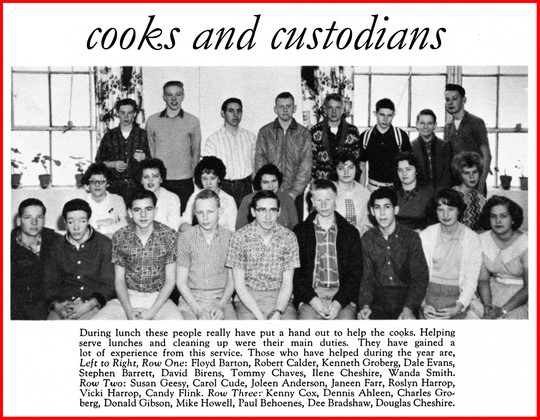 Janeen was a volunteer in the school cafeteria (middle row, fourth from left) - and, as noted below later had a job in the food service industry.
She worked in the food service at Hill Air Force Base for six years, and also for Browning Arms, and Max Factor. She had been a member of the Parkside Winter Bowling Club in Morgan, and Davis County React CB Radio Club.
She was a member of the Morgan 6th LDS Ward, where she had served as a Primary teacher, nursery leader and Relief Society visiting teacher.
Janeen was survived by her husband, Porterville; three sons and one daughter, Marvin M. Miller, Tonya Marie Miller, both of Ogden; Allen D. Miller, and Raymond L. Miller, both of Riverdale, Utah; three stepdaughters, Jaymzlinn Saxton, Salt Lake City; Sherrie L. Saxton, Oakdale, Calif.; Sharleen M. Saxton, Modesto, Calif.; father and mother, North Ogden; father-in-law, Arnold M. (Bud) Saxton, Morgan; four grandchildren.
Also surviving were three brothers and three sisters, Jan Batteigers, Brigham City, Utah; Lynnettie Beckstead, and Paul D. Farr, both North Ogden; Mary Grace Butler, Pleasant View; Gary M. Farr, Portland, Oregon; and Carl J. Farr, Ogden.
Funeral services were conducted Wednesday, at 1 p.m., in the Morgan 6th LDS Ward Chapel, 2700 South Morgan Valley Drive, with Bishop James Watt officiating. Friends were invited to call at the Walker Mortuary in Morgan, Tuesday, 7-9 p.m. and Wednesday, 11:30 a.m. to 12:30 p.m. Interment was in the Porterville Cemetery. In lieu of flowers, the family requested that contributions be donated to the American Cancer Society.
---
Obituary adapted from the (Salt Lake City) Deseret News, June 3, 1991 http://www.deseretnews.com/article/166175/DEATH--JANEEN-F-SAXTON.html
The class In Memory Project thanks classmates Earl Henstra and James Keller for locating and posting these materals.
---