Weber High School

In Memory
Sharon Crippen (Purdy)
Sharon Crippen (Purdy)
October 17, 1944 ~ May 12, 2004

---
Layton, Utah -
The following report was received from Sharon's son, Robert John Purdy, in May of 2016 and the Class Committee thanks him for the submission as we bring another of our fallen Warriors home.
We are hoping to recieve further information to help us post a more complete page in the future.
Deceased Classmate: Sharon Crippen Purdy
Date Of Birth: 10-17-1944
Date Deceased: 05-12-2004
Age at Death: 59
Cause of Death: Complications due to lung cancer and heart problems.
Classmate City: Layton Classmate State: UT Classmate Country: USA
Was a Veteran: No
Survived By: John M. Purdy (Husband) Debbie A. Purdy Beagley (daughter) Robert John Purdy (son) Lacie Beagley (granddaughter)

"Sharon Crippen (Sharon C. Purdy) is/was my mom. She had a love for all things living and was happiest among her many animals on our farm in Layton, Utah.
She was married April 12th, 1963 to my father, John Milton Purdy of Ogden, Utah, and they were married until the day she passed away at McKay-Dee Hospital on May 12th, 2004 at 11:00AM due to complications from her heart and newly discovered lung cancer.
She is buried at the Lindquist Mortuary and Cemetary in Layton, Utah just up the street from her beloved farm where my father still lives. She is remembered by us all the time and will never be forgotten. I miss her so much! "
~Robert John Purdy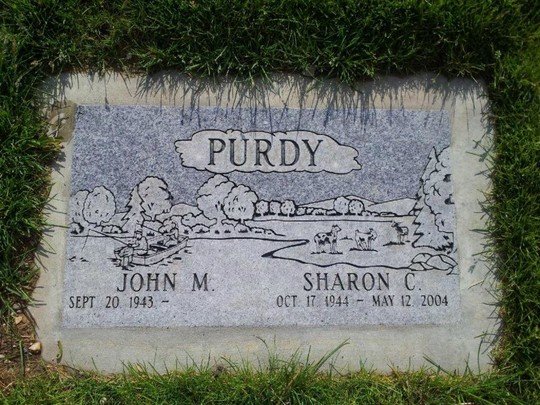 The Committee wishes to thank Sharon's son for contributing this information and classmates Earl Henstra and James Keller for helping with the page.
Page posted 5/22/2016; Last page update 5/22/16
---