Weber High School

In Memory
Stephen Donald Child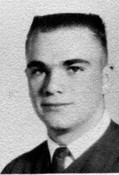 ---
Stephen Donald Child
March 18, 1944 ~ January 15, 2000

---
ROY, Utah -
Stephen Donald Child, age 55, quietly returned home to his Father-in-Heaven January 12, 2000 in Salt Lake City, Utah after a valiant fight with lung cancer; never having smoked in his life.
He was born on March 18, 1944 to Donna Taylor and Donald Stephens Child in Ogden, Utah, where he lived most of his life. He graduated from Weber High in 1962 where he participated in wrestling and track.
---
From the Roy Jr. High Yearbook, 1958-59
---
He married Nila Hayes September 14, 1963 and they were later divorced. He married Margaret P. Olsen April 20, 1996; later solemnized in the Bountiful Temple August 30, 1997.
Stephen was survived by his wife, Margaret; brother, Lee Child (Lorna); sisters, Connie Felt (Kenneth); and Ranae Porter (Douglas); his five children Stephen Child (Colette), Donette Shewmaker (Marvin), Jason Child (Jill), Jared Child (Dana), and Penny Scheer (Lyle); stepchildren, Kevin Seegmiller (Mary), Scott Grimshaw (Terri), Kelly Kesler, and Shannon Bell. He had 22 1/2 grandchildren. His mother and his grandparents preceded him in death.
Steve was a devoted and loving father and husband. He was a hard worker with great integrity. He worked for the Defense Depot in Ogden for 25 years and retired. He worked at Utah Fabrication when he was stricken with his illness. He was also an independent business owner in the Amway Corporation in which he was determined to become a diamond.
He was a very devoted servant of his Father-in-Heaven and lived the covenants to the best of his abilities. He had served as the High Priest Group leader and served on the High Council.
He was kind and gentle, and rarely raised his voice. He had faith in everyone and was forgiving of all. He never judged anyone. We are thankful to have the pleasure and blessing of having him in our lives. In our eyes, he is a diamond. We thank him for his great example. We love him and will miss him.
"Well done thou good and faithful servant."
Funeral services were held Saturday, 1 p.m. at the Roy Stake Center, 2400 West 5127 South, with Bishop Phillip Pinock officiating. Visitation was held at Myers Mortuary, 5865 so. 1900 West, Roy, Friday 6-8 p.m. and Saturday at the church 11:45 to 12:45 p.m.
---
From The Salt Lake Tribune, January 13, 2000. The Committee expresses its appreciation to Classmates Brigette Buckway Hunsaker and James Keller for locating and posting this information.
---