Weber High School

In Memory
Thom Budge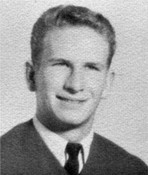 ---
Thomas Manzel Budge
April 16, 1944 ~ September 23, 2009

---
Pleasant View, Utah
Thomas Manzel Budge, beloved husband, father, brother, uncle, coach - and the title he loved the most - Grandpa - passed away unexpectedly of a heart attack Wednesday Sept. 23rd at his home.
Thom was born April 16, 1944, and raised in Pleasant View, UT. The son of Wallace and Josephine Budge, he loved his life on the Budge farm.
He married the love of his life, Linda Hill, in the Salt Lake Temple on Feb. 16, 1968. Together they raised 5 beautiful children: Thomas Brad (Tammy) Budge, Ogden; Dr. Nathan (Katie) Budge, Queen Creek, AZ; Lori (Rob) Cunningham, Ogden; Jonathan Budge, St. George and Jason (Maggee) Budge, West Haven.
He attended Weber High School where he was an outstanding athlete, lettering in football, baseball and basketball, and was the recipient of the Gold Watch Award.
Thom served a mission to the North Carolina Raleigh Mission.
He received a Bachelors degree from Weber State University and a Masters from BYU. He taught and coached in the Weber School District for 37 years. He was at Roy Jr. High from 1969 to 1972. He spent the remainder of his career at Bonneville High School from 1972 to 2006. He coached the Bonneville Lakers football team to 4 State final runner ups and one State football championship in 1980. The Lakers also took 14 region football championships.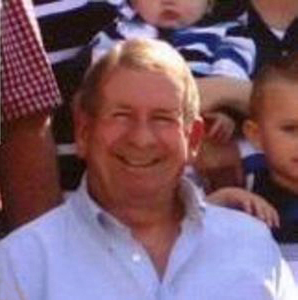 Coach Budge holds the record for the most wins at one school. He retired with a career record of 238 wins and 104 losses. He was honored with The Distinguished Coaches Award from the Utah High School Activities Association in 1999. He was also inducted into the National Football Foundation Hall of Fame in 2004 and the Lakers Hall of Fame in 2006. In 2008 he was inducted into the Utah High School Hall of Fame. More importantly he always credited his fine coaching staff for the teams' success. He thought of all his players as his sons.
The highlight of his career was coaching his sons Nate, Jon and Jason. He could not have had so much success without his biggest fan, our Mom. The football stadium at Bonneville High is named the "Wallace and Thomas Budge Field" in honor of Thom's distinguished coaching career.
He enjoyed watching games on TV, and tinkering on his camper, cars and in his yard. He enjoyed fishing with his kids and grandkids. He loved spending his summers cutting grain with his brothers, Don and Scott.
Thom held many church positions including home teacher, High Priest group leader, High Councilman, Bishop of the Pleasant View 7th ward, and the "Best calling in the church," to him, Gospel Doctrine teacher. He had a strong testimony of the Savior Jesus Christ and lived his life treating others with unconditional love.
He was a humble and simple man. He never sought after the riches of the world, but lived his life in the service of others and so many were influenced by him. He touched so many lives as an athlete, coach, Bishop and friend.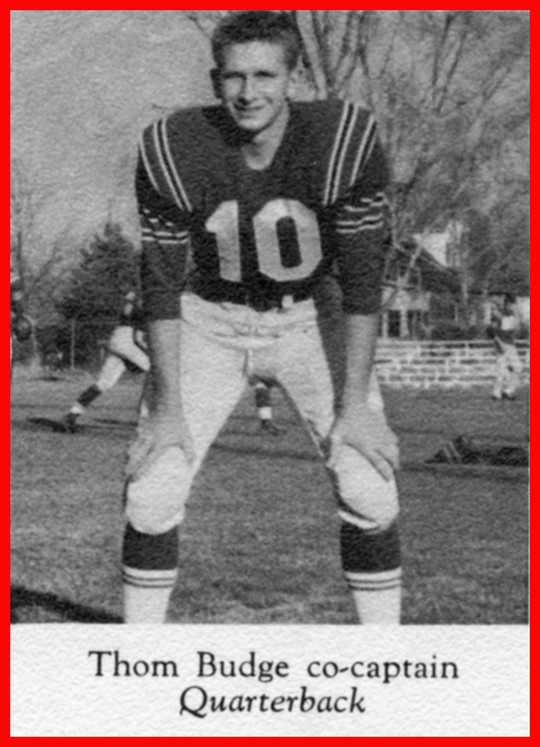 He is survived by his loving wife, 5 children and their spouses, 17 grandchildren and one brother and 4 sisters; Nanette (Dean) Stimpson, Zanesville, OH; Dr. W. Don (Kaye) Budge, Provo, UT; Laurene (John) Patterson, Grand Praire, TX; Jody Jackson, North Ogden, UT; Diane H. Budge, North Ogden, UT; and many nephews and nieces.
He was preceded in death by his parents; his father-in-law, Marlin Hill; a sister, Charlene (William) Soelberg; a brother, Scott Budge, a brother-in-law, Keith Jackson; a stillborn child and a stillborn grandchild.
Services were held Monday September 28, 2009, at 11 am at the Pleasant View Stake Center, 2975 N. 1000 W., Pleasant View, UT. Friends called at the Stake Center on Sunday the 27th from 5-8 pm and Monday from 9:30-10:30 am. Interment was held at the Ben Lomond Cemetery with arrangements under the direction of Myers Mortuary of Ogden.
He will be deeply missed by all who knew him. His grandchildren will always remember grandpa's garden, his famous "Christmas Breakfast," walks to the farm, riding in the combine cab with him, cook outs at North Fork, grandpa giving them "underdoggies" on the swing and pulling them in his big wagon.
We are so grateful we have the knowledge that he will be with us for eternity. We love you "dear," "daddy," and "Grandpa Thom." You have "paid the price..." You are forever loved!
From: http://www.tributes.com/show/Thomas-Manzel-Budge-86813871 The Committee thanks Classmates Earl Henstra and James Keller for guiding us to and processing these materials.
---
From battling the Lakers to coaching them, a warrior all the way.....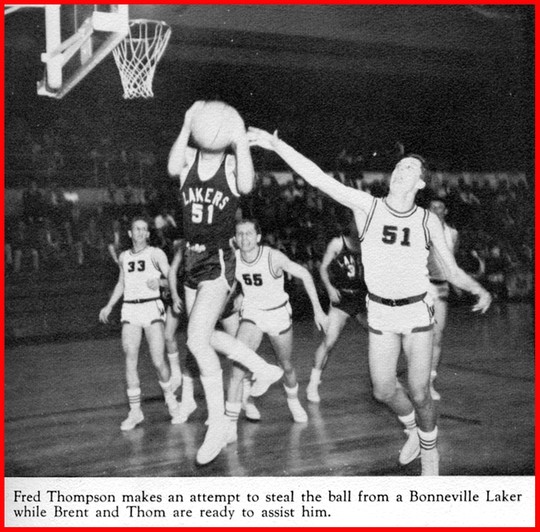 ---