Weber High School

In Memory
Verlene Brower (Mora)
---
Verlene ("Martha") Brower (Mora)
October 26, 1944 ~ June 16, 2015

---
OGDEN, Utah -
"Finally together again"
Verlene's battle with Melanoma Cancer has gracefully come to an end. She fought with so much courage, dignity, and strength. Although she knew the cancer was present, she insisted it was from a broken heart and missing the love of her life.
Verlene was born October 26, 1944 in Rexburg Idaho, the only child of Lavere and Wanda Brower.
She later moved to Ogden, Utah where she attended Ogden City schools and graduated from Weber High School, where she participated in Pep Club, Safety Committee, Dance Club and graduated from the Seminary program as well.
Verlene married Joe Mora whom she called "the love of her life" on November 18, 1963 in Salt Lake City, Utah. Together they had three daughters: JoLene (Ron) Thornock, Traci (Durk) Murdock, and Tiffany (Joel) Perry.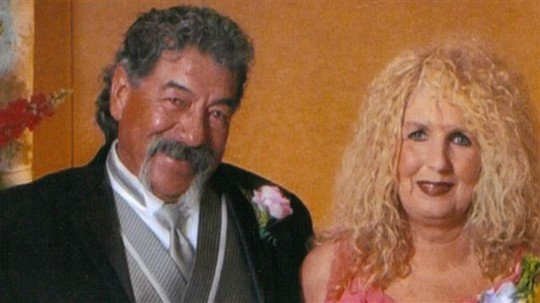 She was a very dedicated wife, mother, and grandmother and cherished her family gatherings. Her biggest joy was cooking her famous Mexican dishes that she learned from her sisters-in-law and ensuring everyone had full tummies.
Her favorite time of the year was the holidays–decorating, shopping, and cooking the best Thanksgiving stuffing and gravy in the world! Her Christmas fudge, sugar cookies, and peanut brittle were gone as soon as they were laid out. She took so much pride in creating traditions for her family and they've been carried on for the last 50 years and will continue.
She had a flare for modern and contemporary decorating, enjoyed studying history, and wrote beautiful poetry. She was very artistic with crafts and would have every present topped with a homemade trinket.
Her escape was to relax and listen to her collection of Jazz and Blues music, her excitement was basketball playoffs. She was a devoted and avid fan of the Jazz and also loved her Denver Broncos.
She was employed at IRS for 35 years and retired as a Supervisor in 2001. She received many awards of achievement and recognition for various classes and presentations. Her employees adored her and to this day they remember the many ways she touched their hearts. She also volunteered at the YCC for many years where she helped young women overcome numerous obstacles and challenges.
Verlene is survived by her three daughters; eight grandchildren: Hillary (Steve) Petersen, Shantell and Makenzie Thornock; Chazney, Colton, Bridger Murdock; and Jayden and London Perry; six great-grandchildren: Riley Joe Charlesworth, Paizlee, Ayvree, and Laiklyn Christian, Brenlee and Hayden Murdock.
She is also survived by her step-brother, Blake (Merle) Knight; brothers-in-law: Ruben, David (Ernie), Eddie, Richard (Ceria), and Albert Mora; sisters-in-law: Olga (Jim) Salas, Yolanda Flores, and Kathy Mora; and several nieces and nephews.
She was preceded in death by her husband, "the love of her life", Joe Mora; her parents; great-grandbaby, Acelyn Jo Christian; brothers-in-law: Lupe Jr. and Ramon Mora; sisters-in-law: Dolores (Lola) Muniz, Julia Doren, and Cecilia (Cil) Rocha; mother and father-in-law: Lupe Sr and Maria DeLeon Mora.
The family would like to express appreciation to Verlene's neighbors: the Wayment, Rivera, Stanger, and Gittins families for all their help, compassion, and dedication to her during this struggle.
The family would like to express their love and gratefulness to the Mora family who have also helped with her care and taken her daughters under their wings. Your guidance and support has been priceless and we love you.
Funeral Services will be held at 2:00 p.m. on Monday June 22, 2015 at Leavitt's Mortuary, 836 36th Street Ogden, Utah. Family will meet friends prior to service on Monday June 22, 2015, from 12:30 to 1:45 p.m. at Leavitt's Mortuary.
Interment at Leavitt's Aultorest Memorial Park, 836 36th Street, Ogden, Utah.
The family is requesting donations in lieu of flowers to help pay for medical and funeral expenses.
Please send condolences to the family at: www.leavittsmortuary.com
---
Special thanks to Classmate Dan Gibson for providing this information to the site, and to Classmate James Keller for research and coordination of the page.
Obituary from: http://www.standard.net/Obituaries/2015/06/21/Martha-Verlene-Mora Page posted 6/22/2015; Last page update: 6/22/2015
---