Weber High School

In Memory
Richard Carlos Bell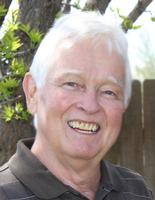 Richard Carlos Bell, 78, of Pleasant View, Utah, passed away on Monday, February 20, 2023 at Sunridge Assisted Living in Layton, Utah after battling the effects of long-covid.
Richard was born on March 13, 1944 in Ogden, Utah to Dortha Caroline Larsen and Darrell Alma Bell. He graduated from Weber High School in 1962 and served in the Army National Guard of Utah. Richard married Pamela Brenchley in 1969, and they are the parents of three sons – Michael, Jeffery, and Matthew. Following their divorce, Richard married LaWanna Bishop in 1984 and became the proud father to Tony, Cory, Bridgette, Bryan, Stephanie, and Allyson.
Richard served two full-time missions for the Church of Jesus Christ of Latter-day Saints – once as a young man to the New Zealand South Mission (1964-1966), and once with his beloved wife, LaWanna, to Martin's Cove Wyoming (2010). Richard and LaWanna also served close to home as inner-city missionaries in Ogden (2011-2012). Richard valued his career at the Defense Depot at Hill Air Force Base as well as his post-retirement job of driving the school bus for Weber School District.
Richard loved camping, fishing, hiking, skiing, and four-wheeling and was happiest in the great outdoors exploring remote landscapes and sketchy closed mines. He loved to sit around the campfire and sing songs with his own made-up lyrics to familiar tunes. But mostly he loved sharing the wonder of God's creations with his family.
Richard is survived by his wife, LaWanna; children Michael Bell, Roy; Jeffery (Shimber) Bell, Kaysville; Matthew (Kristi) Bell, Uintah; Tony (Marie) Owens, South Jordan; Bridgette (Bart) Burnett, Marriott-Slaterville; Bryan (Tryna) Owens, Plain City; Stephanie Taggart, Roy; and Allyson (Dusten) Russell, Taylor; 24 grandchildren, 6 great-grandchildren; and brother Kent (Karen) Bell, North Ogden.
He was preceded in death by his parents, son Cory Owens, brother Norman Bell, and sister Narlene Baird.